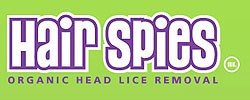 Burlingame, CA (PRWEB) October 16, 2013
With everyone back at school, parents worry about their child coming home with head lice. In addition to the discomfort and the hard work involved in getting rid of a case of head lice, there is a stigma to deal with as well. Families feel judged by their friends, and their school communities. Parents worry that people think that they are dirty and that they are spreading lice everywhere they go. However, Hair Spies wants you to know that none of the rumors are true. With proper precautions, children can avoid spreading head lice, and can prevent catching it again in the future.
Everyone, especially those with small children, should know that having head lice is not an indication of a family or a child's cleanliness. In fact, the opposite is often true. It is hard for lice to lay eggs on a dirty strand of hair. Clean hair is the best environment for head lice.
People are also confused about how to reduce the spread of head lice. If you have head lice yourself, or if you are in contact with people who do, the most important thing to do is to wear your hair up. If your hair is long enough for a bun, that is ideal. With short hair, a head band can help minimize, or better yet, eliminate, any opportunity for hair to hair contact to occur with another person. This is the most important step you can take because hair to hair contact is the way that head lice spread.
As long as everyone takes the proper steps to avoid hair to hair contact, there is no reason to exclude anyone from the normal routines of school and childhood. Aside from being asked to wear their hair back, children should not be treated differently while they have head lice.
According to Hair Spies, there are three things to remember about lice. First, lice prefer clean hair. Second, head lice travel via hair to hair contact. Third, feeling itchy is the worst outcome of a case of head lice.
Hair Spies offers ice removal and head lice treatment. Located at 1419 Burlingame Ave., Suite T in Burlingame, Calif., Hair Spies is open 10 a.m. to 6 p.m. seven days a week. For more information, visit the website at http://www.hairspies.com, or call 650-340-9000.
About the company:
Hair Spies is the only head lice removal salon in San Mateo. They offer the safest options innatural lice treatments for head lice using organic, non-toxic products. A visit to Hair Spies allows clients to relax in the comfort of a private lice removal salon with a professional, trained staff. They strive to keep an open, friendly atmosphere by keeping children entertained with toys, books and DVDs while parents can check their e-mail during their child's treatment using the free Wi-Fi service. Any questions about getting rid of lice – from their natural lice treatment process to their organic lice removal products – will be answered by the very knowledgeable staff. Call (650) 340-9000 to make an appointment.