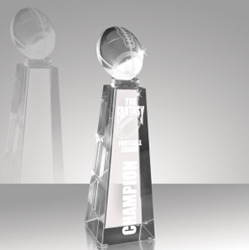 ...fantasy football brings fans closer to the players they love and builds their knowledge of the game itself.
Buena Park, CA (PRWEB) October 15, 2013
This fantasy football season has shown to be one of the most exciting, as fantasy managers and coaches swap, drop and pickup players week after week. Members of public and private leagues alike are laying down the stakes and looking forward to some serious bragging rights as the season heads into week seven. The armchair team managers and living room coaches aren't the only ones ready for a boost in fantasy football action; as a testament to fantasy football's growing popularity, custom trophy provider, netTrophy.com, has continued to see high demand for fantasy league trophies. The desire to take part in the action week after week and experience the victory firsthand appears to be one of the driving forces in the fantasy football's runaway effect.
Since it's earliest development in the 1960s and popular establishment in the 1980s and 90s, fantasy football has given fans an opportunity to embrace the dynamics of the game they love, while experiencing it in a whole new way. As their chosen players gain yards and touchdowns, the fan experiences all of the thrills on a much deeper level than they would as an ordinary fan or spectator.
Per the FOXBusiness article, "The Business of Fantasy Football" the Fantasy Sports Trade Association estimates that fantasy football has become a market force of over 25 million Americans—about 75% of the total number of fantasy sports participants. That mass is not just the stereotypical male sports fan. Husbands and wives, coworkers and students, and even parents and children are playing together as co-owners and competing fantasy team managers.
All the moments and experience leading up to a fantasy football league trophy are part of what drives the games popularity. Fantasy football has given lifelong fans a new way to understand a game they thought they knew inside and out. Any manger who has placed one of netTrophy's crystal fantasy football towers upon his mantle or had her name engraved on the classic league series trophy can tell you, fantasy football brings fans closer to the players they love and builds their knowledge of the game itself. From the team dynamic to the ups and downs of a single Sunday or full season, the fantasy football manager is a whole new breed of football fan with a new level of game appreciation and intelligence to match.
Besides the game and player dynamics, many Americans embrace fantasy football to recapture the thrill of victory. The most loyal fan of the worst national team no longer has to grimace through the rest of the season if they're 0-5 by the time Columbus Day rolls around. Managing a fantasy team has given fans multiple ways to experience a win and even more opportunities to celebrate. While most football fans won't know what it feels like to hold the Lombardi Trophy, fantasy managers can experience the thrill of taking home their very own fantasy football trophy. As netTrophy.com CEO, Brian Wurgler says their of line of popular fantasy football crystal trophies, "The best way to recognize the fantasy champions is with top-of-the-line fantasy football awards."
About netTrophy.com
The web's premier provider of sports trophies, corporate awards, custom plaques and more, netTrophy.com maintains a full array of artfully customized and quality crafted trophies, statues and other recognition pieces that turn a single event into a lasting memory. netTrophy.com is eager to help sports fans celebrate and commemorate their latest season victories. For more information, please visit http://www.nettrophy.com.