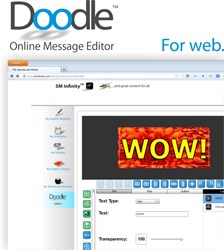 SM Infinity is all about access to your LED sign at anytime, anywhere...from multiple devices.
Corona, CA (PRWEB) October 15, 2013
Spectacular Media has announced the integration of their new online message editor Doodle™ into the web version of SM Infinity™, their signature LED sign content and management service. The announcement came just one week after they released the new feature on the iPad app, expanding support for more users on different platforms.
"SM Infinity is all about access to your LED sign at anytime, anywhere...from multiple devices," explained Darrin Mealio, Lead Web Developer. "We want the experience to be familiar across the board, so we kept the web version of Doodle very similar to the mobile app interface."
According to Spectacular Media, Doodle was created to give end users the ability to create their own simple content directly inside SM Infinity™, while still maintaining a high level of quality. It integrates with SM Infinity by allowing users to create Doodle "projects" that are saved in the user's online graphic library. The editor supports custom text, background colors, and "built-in fonts designed to maximize the readability of text on outdoor digital signage."
The user interface keeps the same simple, yet effective, design of the iPad app incorporating standard editing features like a layers panel, transparency settings, object alignment and object resizing. Simple buttons and sliders are provided for quick manipulation and layout for each project file, and it's all integrated directly into the main SM Infinity web portal.
Spectacular Media teamed up with LED display manufacturer Vantage LED to release SM Infinity earlier this year, turning many heads at the annual ISA tradeshow in Las Vegas. Although common to many industries, cloud-based solutions for outdoor LED signs are hard to come by in the sign industry. Spectacular Media sought to fill this void with a product that allows cloud access and control, while also providing a professional content creation service.
"We have received a lot of positive feedback from dealer partners and end users since we started using SM Infinity for our LED displays," said Paul Martin, Director of Marketing, Vantage LED. "We are now able to provide support to our customers in revolutionary ways which is what Vantage LED is all about."
Because SM Infinity is cloud-based, users can get notifications when the sign is offline or if a schedule is about to expire. This not only helps address network or power issues much more quickly, but also provides end users peace of mind with a proactive approach to support. Additionally, all the content and schedules are safely backed up and stored online, including Doodle projects, user-uploaded content, and all SM Infinity graphic requests. This offers a layer of protection that localized software does not.
Spectacular Media reported a surge in good feedback for Doodle™ on the iPad app, and expect to get the same reaction from web users. It is now available at http://www.sminfinity.com or by downloading the SM Infinity™ iPad app available on the App Store.