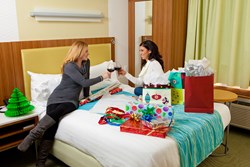 Less-busy weekdays mean personalized attention, and for acquire-great-things-for-everyone-on-the-list shopping get-aways.
Temecula, CA (PRWEB) October 15, 2013
"Uniquely celebrated for corporate and personal gifts, and ideal for midweek, overnight, multi-day Southern California holiday shopping are the newly announced VisitTemecula.org Top 3 Holiday Shopping Destinations: Temecula Valley Wine Country, Downtown Old Town Temecula, and Promenade Temecula," shares Kimberly Adams, Temecula Valley Convention & Visitors Bureau president and CEO. "Less-busy weekdays mean personalized attention, and for acquire-great-things-for-everyone-on-the-list shopping get-aways, Temecula Valley hotel-and-resorts' special Sunday-through-Thursday (better-than-weekend) nightly room rates mean savings that become additional resources for purchasing Temecula Valley goodness and greatness." Welcoming more than 2 million visitors each year and located 1-hour from San Diego, Orange County, Palm Springs; and 1½ hours from Los Angeles and Hollywood, casual, picturesque Temecula Valley quality experiences include Downtown Old Town Temecula, Temecula Valley Southern California Wine Country, Pechanga Resort & Casino, and Temecula Wine Country Golf Trail.
1-Temecula Valley Wine Country Holiday Shopping
Many Temecula Valley wineries welcome holiday shoppers beginning Harvest Celebration Barrel Tasting Weekend, November 2/3. Throughout the season, shoppers taste quality, award-winning, premium varietal, estate wines and purchase favorites for personal and corporate gifts; and pairing with holiday foods (rosé with turkey; red with prime rib; dry white with ham).
Temecula Valley wines suggested for the holidays include South Coast NV Sparkling Pinot Grigio, Thornton NV Cuvee Rouge, Briar Rose estate, Palumbo 2010 Meritage "Tre Fratelli," Danza del Sol 2011 Temecula Valley Barbera, Robert Renzoni 2011 Temecula Valley Chardonnay, Leoness Cellars 2010 Temecula Valley Syrah and traditional-Port-style 2006 Cinsant, and Callaway estate duo Late Harvest Chardonnay and Cabernet dessert wines. Quality wines are also at wineries like Bel Vino, Churon, Cougar, Doffo, Foote Path, Gershon Bachus, Keyways, Lorimar, Lumiere, Maurice Car'rie, Miramonte, Monte de Oro, Mount Palomar, Ponte, Oak Mountain, Van Roekel, Wiens, and Wilson Creek.
Acclaimed winery gift shops for wines, gift boxes, and accessories include Callaway, Lorimar, and Ponte. Maurice Car'rie craft fair is a popular stop; Wilson Creek offers white, red, and sparkling wines with custom and personalized holiday labels. Shopping provides dining opportunities where winery-restaurants pair Temecula Valley wines with fresh, local ingredients: Bel Vino, Café Champagne, Carole's, Creekside Grille, Maurice's Kitchen, MDO, Leoness, Meritage, Pinnacle, Ponte, Shorty's, and Vineyard Rose.
2-Downtown Old Town Temecula Holiday Shopping
Many of Old Town Temecula's 60+ unique, family-owned-and-operated specialty stores welcome holiday shoppers beginning Veterans Weekend November 9/10/11. At Temecula Olive Oil Company, experience fresh, 100%-California, 100% extra-virgin olive oil at the complimentary-daily tasting bar; shop for artisan blends (fresh basil olive oil, pomegranate vinegar), custom gift boxes. Old Town Spice Merchants features loose teas, herbs, spices, salts, blends. Old Town Sweet Shop chocolatiers make fresh chocolate barks, nut clusters, and chocolate-covered bacon. Popular Temecula Lavender Company items are salt scrubs, lotions. Old Town Root Beer bottled sodas and Granny's Attic & Antiques unique items make eclectic stocking stuffers.
Saturday mornings are Old Town Temecula Certified Farmers Markets with fresh, local, organic, exotic, fruits, vegetables; citrus, avocados, Dragon fruit, Buddha's hand/fingered citron, fresh wreaths, fresh baked-goods, artisan foods. Old Town Temecula holiday activities include carolers, visits with Santa, entertainment, activities for kids - weekends, November-29 through December-22. Old Town Temecula shopping provides opportunities to dine in independently owned restaurants like Baily's, Front Street Bar & Grill, Gambling Cowboy, Mad Madeline's, Nitza's Pizza, Palumbo's, Parea, PUBlic House, Robin's Nest, Rosa's Cantina, Sweet Lumpy's, Texas Lil's, The Bank.
3-Promenade Temecula Holiday Shopping
Distinctive, indoor-outdoor Promenade Temecula is ideal for holiday shopping with 170+ sought-after-stores including Macy's, H&M, Brighton, G by Guess, The Walking Company, Williams-Sonoma, and Pottery Barn; and for young adults, Pac Sun, Tilly's, Charlotte Russe, Fox, Victoria's Secret, and others. From latest Apple technology and new-concept Disney Store to timelessness at Coach, shoppers find many current brands, styles, and trends.
Promenade Temecula holidays start with Santa's arrival and Promenade Tree Lighting, November-16. Thanksgiving Midnight Madness Sales events begin after Thanksgiving dinner, November-28; select stores open at 12-midnight with only-during-Midnight-Madness sales. Promenade Temecula dining includes Amerikhan Mongolian, California Pizza Kitchen, Lazy Dog, Lucille's Smokehouse, P.F. Chang's, Red Robin, Sushi Boat, and Yard House.
Information is believed accurate but is subject to change.
About Temecula Valley and the Temecula Valley Convention & Visitors Bureau
With natural gifts of climate and geography, bolstered by Pu'eska Mountain, Rainbow Gap, and Santa Margarita Gap, Temecula Valley is recognized for its vineyards, quality wines, and gracious, friendly wineries as Temecula Valley Southern California Wine Country. The popular boutique destination is also home to 2013 California State Winery of the Year, South Coast.
The Temecula Valley Convention & Visitors Bureau, official tourism marketing organization and resource for visitors, is online including complete, daily Events Calendar at VisitTemecula.org; Facebook, "Temecula Valley Southern California Wine Country"; and Twitter, @Visit_Temecula. Temecula Valley Visitors Center in Old Town Temecula (Third Street/Mercedes adjacent free parking garage) is open seven days; call 888/363-2852 or 951/491-6085.