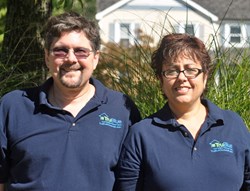 Cincinnati, OH (PRWEB) October 22, 2013
Ray and Martha Earls know that sometimes everyone just needs someone who can handle the stresses of homeownership for them. Whether that person is a busy adult looking for maid or lawn services or a senior looking for a dependable handyman, having someone take care of the details of your home can free up your weekends, relieve stress and leave time for you and your family.
Now all of those house care services are available through one company in Cincinnati – TruBlue Total House Care.
Ray and Martha Earls recently launched TruBlue of Cincinnati because they were looking for fulfilling encore careers – Ray was looking to step back from his career as a pharmacist and Martha recently retired from 30 years of service as a librarian.
"We were looking to open a franchise that really focused on seniors and busy families and TruBlue was a good fit. At TruBlue, we can coordinate and provide whatever home care service you need to make sure your house is safe and comfortable. After going through the difficulty of trying to find help for my parents living in their home in Tampa, Martha and I felt that TruBlue fulfilled an important role in our community here in Cincinnati," Ray said.
TruBlue of Cincinnati, serves the west side of town and Cincinnati proper. The company specializes in providing complete house care to residential as well as commercial customers. A few of the services include: regular cleaning, pre-move in cleaning, special cleaning for holidays or, apartment turn over cleaning with maid services; household repairs, emergency repairs, seasonal work, as well as home improvements with handyman services; and complete lawn and yard care through landscaping services.
With TruBlue's customized and affordable services, customers only pay for the services they need.
"If there is some sort of service you need for your home, we'll help you get it. For example, maid service is not the same as housekeeping, but if what you need is a housekeeper, we'll arrange that for you," Ray said.
Although the Earls aren't landscapers or repair people, their combined experience in customer service and working with teams makes them ideal for working with trade employees or contractors and making sure that customers are happy with the work.
"Ray is a pharmacist and small business owner – but he knows what it takes to build a deck or install drywall and how to repair a leaky sink. Most importantly, he knows what a job well done should look like and that customers should be satisfied with the work and with the person doing the work," Martha said.
In addition to bringing a needed service to the Cincinnati community, Ray is looking forward to using his pharmaceutical experience to really help people live more comfortably.
"In my mind, there's no such thing as a client. To me, every customer is like a patient. In pharmacy, you can't just hand someone a prescription and walk away – you have to do your due diligence to make sure they have all the information they need, they don't have conflicting medications, etc.," he said. "That same philosophy will apply with TruBlue. We're here to address our customers' individual needs and we'll work with them one-on-one to be sure they have exactly what they need."
"We are fully insured and bonded and all of our employees are background checked trained and certified to provide a system that is consistent, safe and efficient, which translates into it being affordable and ensures the job is done right the first time," Ray added.
To find out how TruBlue Cincinnati can help you manage your house care needs, call 513-878-2583 (513-TRU-BLUE), email rearls(at)trubluehousecare(dot)com or visit http://www.TruBlueCincinnati.com.