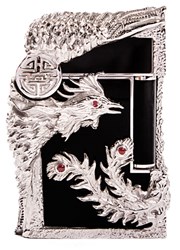 Long Island City, NY (PRWEB) October 17, 2013
Lighters Direct is the world's premier online shopping center for the most diverse collection of lighters and cigar accessories. Now it is adding a unique treasure to its collection. The S.T. Dupont Phoenix Black Limited Edition Ligne 2 Lighter follows the same structural design as S.T. Dupont's Phoenix Prestige Limited Edition Ligne 2's; however, the Phoenix Black features an enhanced finish, and is even rarer than the Phoenix Prestige.
Inspired by the dark, cyclical mortality of the mythical Phoenix, the Phoenix Black lighter is finished with black Chinese lacquer, hand-engraved white bronze patina, and embedded rubies. S.T. Dupont created only twelve Ligne 2 Lighters with this finish, making it one of S.T. Dupont's rarest productions to date. All twelve of those lighters are exclusively available at Lighters Direct.
Lighters Direct is an authorized dealer and appointed merchant of all products represented on its website. This guarantees authenticity of every product sold and can grant the manufacturer's full warranty to its customers on all S.T. Dupont cigar accessories. Made in France, S.T. Dupont Ligne 2 Lighters are designed with the highest quality. They feature roll bar flint ignition, an easy flame adjuster, and a double burner that allows for even cigar lighting. A perfect present for the discerning cigar aficionado, each lighter is packaged in a special S.T. Dupont gift box.
Lighters Direct receives excellent reviews thanks to its superb customer service. Customer service representatives are available to answer any questions. All products sold from the website come with a 30-day money-back guarantee, including all S.T. Dupont cigar accessories.
About Lighters Direct:
Celebrating its 10th year in operation, Lighters Direct is an online lighter and cigar accessory merchant that takes pride in offering the finest selection of cigar accessories from around the globe. They also offer Zippo lighters, pipe accessories, and outdoor lighters.
To view the new exclusive S.T. Dupont Phoenix Black Limited Edition Ligne 2 Lighter, click here.