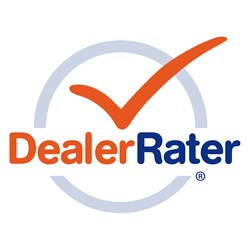 With the jump in online searches for auto maintenance and repairs, dealers need to differentiate their service business from independent service centers as well as local dealership competitors.
Waltham, MA (PRWEB) October 15, 2013
DealerRater, the world's premier car dealer review web site, today announced the launch of its new Certified Service Center Program. Recent studies show that online searches for auto repair and maintenance have grown 66 percent in the past three years, and have even surpassed growth in car and truck searches by eight percent in the past year alone. DealerRater's Certified Service Center Program enables auto dealers to boost the visibility of their service center and grow their service business with a suite of tools featuring a unique Service Center Review Page packed with service-specific information, such as amenities, hours, photos, top-reviewed service employees, as well as special offers and coupons.
"With the jump in online searches for auto maintenance and repairs, dealers need to differentiate their service business from independent service centers as well as local dealership competitors," said Chip Grueter, president at DealerRater. "We've carefully designed our new Certified Service Center pages to provide dealerships with critical customer connection points – like service scheduling and special offers – while also benefiting from priority placement in service center searches on our site and improved SEO for key auto repair search terms."
Key highlights of Certified Service Center include:
Enhanced and Unique Service Center Review Page: Comprehensive review page displays service center information such as amenities and hours, photos and top-reviewed service employees. Enables dealers to gain enhanced visibility for their service business and highlight differentiators, so in-market shoppers choose them.
Premium Review Page Ad Placement: Enables exclusive ad placement of the dealership's display ad on their own Service Center Review page. Helps more effectively brand dealership's service business to in-market consumers.
Service Appointment Requests: Enables the dealerships to receive online service appointment requests and book more service appointments online.
Special Offers & Coupons: Enables the display of service-related special offers and coupons on the dealer's Service Center Review page so as to attract more service customers with enticing coupons and special offers.
Priority Placement on Search Results: Provides top placement on DealerRater service center search results pages. In-market consumers will see the dealer's Service Center first when searching for service in their local area.
Service Employees Highlighted: Displays top-reviewed service employees and associated reviews on dealership's own Service Center review page. Dealers can promote their excellent service staff for a competitive edge with employee reviews, bios, testimonials, photos and videos.
Improved SEO: Helps boost search engine optimization results for a dealer's service business and ensures in-market consumers find the dealership when searching for auto maintenance and repair online.
DealerRater Car Recall Page Links: Enables direct links to the dealer's Service Center review page from DealerRater's popular car recall pages, providing additional visibility for a dealership's service business and service reviews.
Service-Specific Point-of-Sale Tools: Includes tools such as service reminder window clings, invoice stickers and service rating cards to encourage customers to write service reviews. Helps dealerships increase their total service review count and gets customers talking about the service department.
Certified Service Seal: A unique DealerRater seal differentiates the dealership from local competition by indicating participation in the Certified Service Center Program.
For more information, visit http://www.DealerRater.com, call 800-266-9455, or stop by for a demonstration at DealerRater's booth #726 at the 15th Digital Dealer Conference and Exhibition, October 15-17, 2013, in Las Vegas, Nevada.
DealerRater was founded in 2002 as the first car dealer review website worldwide. DealerRater is the world's #1 online resource for anyone seeking trusted third-party information on automobile dealerships. DealerRater features nearly 41,000 U.S. and Canadian car dealers, more than 1,200,000 consumer reviews and over 1 million cars for sale. DealerRater attracts more than 9.5 million consumers every year who visit the site to search for car dealerships, read reviews, write their own descriptive reviews, and find car deals – all for free.
In addition, DealerRater offers qualified car dealers a Certified Dealer Program as a reputation management tool to help them grow their online presence and achieve higher SEO rankings across the Web. Today, more than 4,900 dealers are members of the award-winning DealerRater® Certified Dealer Program. DealerRater is proud to have earned the #137 position on the 2012 Inc. 500 list, an exclusive ranking of the fastest-growing private companies in the United States. DealerRater was also recently awarded a Technology Leadership Award from Dealer Marketing Magazine and a "Top Rated" Reputation Management award in the fourth annual DrivingSales Dealer Satisfaction Awards. For more information, visit http://www.DealerRater.com or call 800-266-9455.