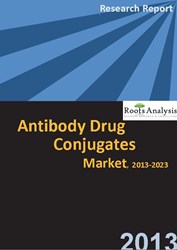 Rockville, MD (PRWEB) October 16, 2013
Antibody Drug Conjugates Market, 2012-2023
Instead of blasting away at a tumour site, an incision strike is made by locking ADCs onto a target. "This should result in less damage to the body as the cytotoxic drugs are brought to targeted cells rather than sent throughout the body," says Shivani Singh, who wrote a recent report on the ADC market for consultants Roots Analysis. The company predicts the market could be worth $9 billion (£5.75 billion) by 2023. Big pharma has been an enthusiastic supporter, hooking up with ADC technology leaders.
The heterogeneous mixtures of ADCs pose challenges for manufacturing, says Singh, and site-specific conjugation "is quite an attractive way of meeting that challenge." Apart from big pharma and biotechs as technology providers, she sees a role for contract manufacturers in ADCs, though they do not have the capability to commercially produce ADCs. Singh is optimistic about the future and says communication between ADC developers and the FDA is on the up: "The process should become smoother, as companies are receiving more guidance from the FDA in the initial stages of development."
There is also a shift in the partnership models between companies; the big pharma players had employed technology licensing models to develop ADCs, but "rather than licensing they are now collaborating for product development," says Singh. Millennium entered into a collaboration with Seattle Genetics to obtain an exclusive license to market Adcetris outside the US and Canada, for example.
"There are a few drugs in development for non-oncological indications, but from what we found they are all in pre-clinical stages," says Singh.
Roots Analysis predicted that ADCs of the non-oncological space will follow on from initial successes in cancer therapeutics. But for the foreseeable future oncology is where it is at. Roots Analysis' ADC report in July looked at the rich pipeline – 33 drugs in clinical development – and predicted a quickening pace ahead. It identified new linker and cytotoxin technology as strengths, along with funding from venture capital firms. Threats identified included a high failure rate of pipeline drugs and post marketing withdrawals. The report's base sales forecast envisaged the total ADC market at $370 million in 2013, rising to around $9 billion in 2023. Its optimistic scenario had this at $400 million this year, $12 billion in 2023. This potential has pushed the ADC bandwagon along, with many drugs in preclinical development at companies including GSK, Pfizer, Abbott and Roche, as well as many smaller players. Whether ADCs can step out from clinical trials into blockbuster status remains to be seen.
To order this report:
Antibody Drug Conjugates Market, 2012-2023
Contact: Shauna
800.298.5699
Customerservice(at)marketresearch(dot)com
Roots Analysis Pvt. Ltd.
Roots Analysis provides business research and consulting in the pharmaceutical industry. Focused on providing an informed and impartial view on key issues facing the industry, our research is primarily driven by an in-depth analysis covering the following parameters:
-Technology evolution
-Research and development
-Existing market landscape
-Future Commercial potential
-Regulatory concerns
-Regional growth drivers
-Risks and opportunities
About MarketResearch.com
MarketResearch.com is the leading provider of global market intelligence products and services. With research reports from more than 720 top consulting and advisory firms, MarketResearch.com offers instant online access to the world's most extensive database of expert insights on global industries, companies, products, and trends. Moreover, MarketResearch.com's Research Specialists have in-depth knowledge of the publishers and the various types of reports in their respective industries and are ready to provide research assistance. For more information, call Cindy Frei at 240.747.3014 or visit http://www.marketresearch.com.
Follow us on Facebook http://www.facebook.com/marketresearchdotcom.
Follow us on Twitter http://www.twitter.com/marketresearch_.
Antibody Drug Conjugates Market, 2012-2023 – Table of Contents:
1. EXECUTIVE SUMMARY
2. INTRODUCTION
3. ADC THERAPEUTICS: OVERVIEW AND BACKGROUND
3.1. Chapter Overview
3.2. Kadcyla Becomes Third ADCs to Reach Market
3.2.1. Mylotarg (Pfizer)
3.2.1.1. Mechanism of Action
3.2.1.2. Approval and Discontinuation of Mylotarg in the US
3.2.1.3. Reasons for Poor Clinical Benefits of Mylotarg
3.2.2. Adcetris (Seattle Genetics/Takeda Oncology Company)
3.2.3. Kadcyla (Roche/Genentech)
3.3. Companies Active in the ADC Market
3.3.1. Large Pharmaceutical Companies Taking Interest
3.4. Companies Providing ADC Technology
3.5. Role of Venture Capitalists
3.6. Analysis of the Development Pipeline
3.6.1. Limited Number of Molecules in Late Stage Development
3.6.2. Cancer is the Leading Indication, with ADCs Against Blood Cancer Dominating
3.6.3. Auristatins are the Most Popular Toxin Being Studied
3.6.4. ADC Market by Type of Linker
4. ADC MARKET, 2012 - 2023
5. Manufacturing of ADCs
6. PIPELINE AND MARKET DEVELOPMENTS
7. PROFILES OF LEADING COMPANIES
8. SWOT Analysis
9. CONCLUSIONS
10. APPENDIX 1: TABLES
11. APPENDIX 2: LIST OF COMPANIES AND ORGANISATIONS