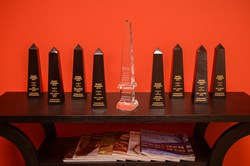 Atlanta, Ga. (PRWEB) October 15, 2013
Professional Photographer magazine once again proved itself a force to be reckoned with, taking home a record 18 Gamma Awards at the 24th annual Magazine Association of the Southeast Conference. Professional Photographer is published by Professional Photographers of America (PPA).
Professional Photographer's honors at the September ceremony included the most prestigious prize of the day, the Grand GAMMA, with judges pronouncing the publication "the best of the best." The 18 awards are the most the magazine has received in a single year as well as the largest number taken home by a single publication this year.
"It's exciting for Professional Photographer to earn this kind of recognition," said PPA director of publications Jane Gaboury. "The work of PPA staff members as well as contributing writers and photographers makes it possible to produce a magazine that is so highly regarded not only by readers by also by publishing professionals."
The Gamma Awards recognize editorial and design excellence in a competition that extends across the Southeast and is judged by experts in the publishing industry.
"Professional Photographer magazine is certainly worthy of winning the Grand Gamma, said awards judge Glenn Himebaugh, professor emeritus of journalism at Middle Tennessee State University. "Its graphics are well done and are enhanced by the slick paper on which the magazine is printed. Content is clearly aimed at the professional photographers who comprise the bulk of the readership, and the quality of writing is uniformly excellent."
Additional awards taken by Professional Photographer include the gold for general excellence, best photography, and best design, among others. A list of all winners is found at magsoutheast.org.
About Professional Photographer magazine
For more than 100 years, Professional Photographer, the member magazine of Professional Photographers of America, has helped readers advance careers in the photographic industry. Each issue contains information and inspiration to help readers be successful in their art and business. For information and subscriptions, go to ppmag.com.
About PPA
Professional Photographers of America (PPA) is the largest international non-profit association created by professional photographers, for professional photographers. Almost as long-lived as photography itself, PPA has roots that date back to 1869. It assists more than 26,000 members through protection, education and resources for their continued success. See why photographers love PPA at ppa.com.