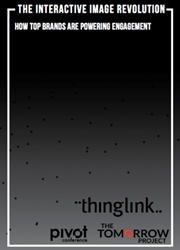 One of the reasons ThingLink's information-embedding approach has power is because it transforms an image from a single object, clickable or not, into a cornucopia of information choices.
New York, NY (PRWEB) October 15, 2013
"The Interactive Image Revolution - How Top Brands are Powering Engagement," a report presented today at the Pivot Conference, features the first independent analysis of ThingLink interactive image performance and its use by major publishers and brands.
ThingLink is a platform used by over 265,000 publishers – including brands and agencies – for creating and distributing interactive images across web pages and social channels. ThingLink also supports publishers who use the platform for creating and deploying interactive ad units and native advertising and editorial pages.
To obtain a specific sense of ThingLink's impact on ad fundamentals, The Pivot Conference and ThingLink worked together during the summer of 2013 to study ThingLink programs of companies across four core categories: Editorial Web, Editorial Social, Brand Web and Brand Social. In each case, actual, live ThingLink implementations were examined. In each category, 15 ThingLink enabled images were studied.
The results of the study show a dramatic impact for ThingLink images as response generators. At a time when banner ad click rates subsist between .01% and .04%, depending on source, ThingLink delivered an average click rate of between 5.7% and 16%. Not only was the overall response rate breathtakingly high, the study indicated some clear reasons why.
According to Mike Edelhart, CEO of Pivot, who authored the report, "One of the reasons ThingLink's information-embedding approach has power is because it transforms an image from a single object, clickable or not, into a cornucopia of information choices. This produces an engagement intensification that neither standard images nor content approaches can deliver."
ThingLink content elements generated "hover" engagement at up to nearly 4X the level of views. This means a ThingLink image can generate four interactions from a single view. At the lowest level, ThingLink produced a 50% secondary engagement per view. Any one of these intensified interactions can be the trigger for a click.
"In short, the information-enabled image appears to be a more powerful tool for generating clicks than any other we have seen before," said Edelhart.
The ThingLink study shows clearly that the more information options in an image - shown on the table as number of Tags - the higher the engagement intensification. That doesn't necessarily lead directly to higher click rates, but it certainly increases the potential for maximization.
Another view of ThingLink's power can be seen by diving into the performance of Groupon's program in the summer of 2013. Across six different products, ThingLink produced a remarkable click rate of 16% and an intensification of 96%, which means that nearly all of those who viewed the images saw the additional content that ThingLink delivered. In essence, that is a fundamental doubling of engagement; each user sees both the image itself and at least one additional piece of content on each view. We feel it is this essential intensification that drives ThingLink's high response rates.
In addition to studying how others use ThingLink, Pivot itself used the platform to enhance promotion and information delivery for the Conference.
"We addressed the challenge of bringing a star-studded preview video about Pivot to our home page without pushing other key content below the fold by embedded the video thumbnail into our home page header with ThingLink," noted Edelhart. "There was a 41% increase in new traffic to Pivot's external marketing programs after creating a Thinglink button to promote the program within Pivot's web header."
Pivot Conference also used ThingLink to transform the images of Pivot's speakers into information launch pads. "With ThingLink we were able to bring web pages, social connections, bios, videos and other speaker background right into the pictures," added Edelhart. There was an increase in the average time on the speaker section of Pivot's website from 3:07 to 4:04. Conference organizers also received a gush of pleasure from Pivot's generally hard to please speakers to this implementation, as many asked to include additional content within their pictures on the site.
For more information visit ThingLink.com. For a copy of the report visit the Pivot Conference.
About ThingLink
ThingLink is the most popular platform for creating and distributing interactive images for blogs, web pages, social channels and advertising. ThingLink is used by more than 265,000 publishers, including leading brands, digital agencies, newspapers, magazines, universities, schools, and long-tail bloggers. For more information, visit ThingLink.com and ThingLinkPress.com.
About The Pivot Conference
The Pivot Conference is a uniquely powerful Social Business conference, held October 15-16, 2013, at the Altman Building in NYC. Pivot is singularly focused on helping brand marketers gain essential confidence in their power to inhabit the culture, conventions, and conversations of Social Consumers and the emerging Social Construct. Pivot brings together more than 450 of the top minds from major brands and agencies to ensure the most powerful possible interaction, and sold out the last two years. Visit http://www.pivotcon.com for more information or to secure your place.