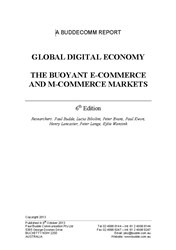 Rockville, MD (PRWEB) October 21, 2013
Global Digital Economy - The Buoyant E-Commerce and M-Commerce Markets
While recent industry and economic conditions have been a challenge, they have provided the perfect recipe for digital e-commerce and m-commerce to thrive. From the rise of Over-The-Top (OTT) services and app stores offering more digital channels for e-retailers to reach audiences to the growth of smart phones and improved infrastructure - all mixed with consumers' willingness to seek cheaper and broader retail options, the e-retail sector is finally coming into its own.
Demonstrating this buoyancy, in 2013 well over $1 trillion will be spent worldwide and while it is B2C e-commerce that seems to attract much of the global media attention, it is actually B2B spending that holds the largest market share of e-commerce spending with over $12 trillion spent worldwide in 2012.
The rising popularity of smartphones and uptake of tablets, along with improved mobile infrastructure, has been a key driver to the rise of mobile commerce. Mobile commerce is currently one of the hottest sectors and it is gaining importance for a wide range of industries, including telecommunications, IT, finance, retail and the media, as well as for end users. It works best in those areas where it can emphasize the core virtue of mobile networks – convenience. The enormous success of smartphones is linked to the large range of available apps, and increasingly commercial models are being linked to these apps - which will result in further spectacular growth in m-commerce.
The Mobile Location-Based Services (MLBS) sector has evolved and the full potential of this technology is starting to be revealed. The sector will continue to evolve as handsets with smarter capabilities, new apps and user interfaces permeate the market. This technology will also be included in the broader concept of The Internet of Things and Machine-to-Machine (M2M) developments.
To order this report:
Global Digital Economy - The Buoyant E-Commerce and M-Commerce Markets
Contact: Shauna
800.298.5699
Customerservice(at)marketresearch(dot)com
Paul Budde Communication Pty Ltd
Paul Budde Communication is a telecommunications and information highway consultancy company specializing in market analysis. Paul Budde is a well-known industry consultant and market analyst with broad international experience. Research concentrates on the management and marketing issues of the telecommunications and information highways markets. Having been involved in the industry for over 20 years, Budde associates have become experts in analyzing the information. As we are an independent operation, we can assess the market objectively and provide accurate information about trends and developments, with realistic time-frame predictions. Paul Budde Communication publishes approximately 1,000 market research Web reports and 25 specialized Web news reports.
About MarketResearch.com
MarketResearch.com is the leading provider of global market intelligence products and services. With research reports from more than 720 top consulting and advisory firms, MarketResearch.com offers instant online access to the world's most extensive database of expert insights on global industries, companies, products, and trends. Moreover, MarketResearch.com's Research Specialists have in-depth knowledge of the publishers and the various types of reports in their respective industries and are ready to provide research assistance. For more information, call Cindy Frei at 240.747.3014 or visit http://www.marketresearch.com.
Follow us on Facebook http://www.facebook.com/marketresearchdotcom.
Follow us on Twitter http://www.twitter.com/marketresearch_.
Global Digital Economy - The Buoyant E-Commerce and M-Commerce Markets – Table of Contents:
1. Industry Transformation and the Digital Economy
1.1 Transforming the telecoms industry
1.1.1 Telcos still ignoring industry transformation
1.1.2 The rapidly shrinking traditional telecoms market
1.2 Telcos have already lost the current OTT battle
1.2.1 Infrastructure investment models are stuck
1.2.2 Is the WCIT indeed wicked?
1.3 The digital business buzzword is also transformation'
1.4 What will be driving these new investments?
1.4.1 It is not about speed it's about big data'
1.5 Hot sectors for OTT services
1.6 How to move forward?
2. E-Commerce, E-Payments and M-Commerce Markets
3. Mobile Location Based Services
4. Digital and Mobile Entertainment Media
5. Online and Mobile Advertising
6. Regional Overviews