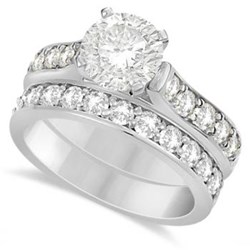 Moissanite jewels aren't diamonds, they're in a class all their own.
New York, NY (PRWEB) October 16, 2013
Diamonds have been the stone of choice for engagement rings, wedding bands, and fine jewelry items since 1477 when the first diamond engagement ring was presented**. Known originally as a sign of great wealth and royalty, today diamonds are almost commonplace.
With prices projected to rise a whopping 6% a year through 2020, however, the popularity of diamonds may be waning. As alternative bridal choices continue to gain favor, Moissanite appears as the brightest jewel on the horizon.
Moissanite is a handmade jewel that possesses more luster, fire and brilliance than diamonds or gemstones. Each gem is carefully hand cut, chosen only if it meets the stringent requirements moissanite stone cutters have developed, to guarantee only the highest quality stones ever reach the marketplace.
Raphi Mahgereft, an Allurez Jewelers executive, said that, "As a trusted online jewelry company, our reputation is built on the products we offer our customers. We chose to present Moissanite jewelry only after we were assured of its exceptional quality. Plus, since it is a handcrafted gem, it is always a conflict free stone, something we support 100%."
At about an eighth the price of diamonds, Moissanite is certainly a more affordable option, surprising even the most discerning jewelers who at first look would identify Moissanite as a diamond worth hundreds of dollars more. "Moissanite is so optically close to diamonds that jewelers must usually inspect each stone with a magnified jewelers' loop to see any difference," said Mahgereft. "However, the naked eye will simply appreciate the many things they love about diamonds, only amplified. Moissanite is the most brilliant stone on earth with more fire and dazzle than most natural gems, making this jewel the perfect choice for savvy buyers searching for engagement rings, earrings, bracelets, and other fine jewelry."
Comparing Moissanite to diamonds may be difficult, but the bottom line is Moissanite jewels aren't diamonds--they are in a class all their own.
Based in New York City and serving customers around the globe, Allurez Jewelers is a rising star in the field of luxury ecommerce. Allurez was recently ranked as the number one online-only jewelry retailer by TopTenReviews.com***, and placed in the top three retailers overall. Their team of veteran jewelers specializes in all fine jewelry, including Moissanite rings, gemstone pendants, and other spectacular contemporary jewelry. Visit them online at Allurez.com.
Sources:
*http://www.nationaljeweler.com/nj/diamonds/a/~30988-IDEX-Online-Diamond-prices-to (National Jeweler May 2013)
**http://en.wikipedia.org/wiki/Moissanite
**http://online-jewelry-review.toptenreviews.com/ (June 2013 TopTenReviews)