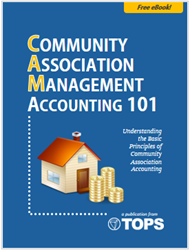 Gaithersburg, MD (PRWEB) October 14, 2013
The CAM Accounting 101 eBook provides readers with an understanding of Condo and HOA accounting practices for new community association accountants, bookkeepers and community managers. The eBook is also a great resource for community association board members and anyone interested in learning how condominium and HOA management accounting works. Readers will learn industry secrets, tips and tricks and best practices like:

Identifying the unique properties of CAM accounting and understanding how they work.
Determining which accounting method to use for your association management, and best practices for implementation.
Learning how to set up your General Ledger to best align with the industry (and stay compliant with government regulations.)
Understanding the accounting cycle for community association management and how you can implement it.
Providing Board members with the monthly financial reports they need to govern their association (and understand and be able to explain them yourself!)
Along with the information and process diagrams, sample financial reports are also included in the eBook to give viewers an idea of the kind of information that should be provided to the association's board of directors.
With the help of this eBook, readers with an accounting background in any industry will be able to jump in to community association accounting with the ability to adapt their existing knowledge of accounting to condominium and HOA management accounting practices.
The eBook is available as a free download at http://info.topssoft.com/download--ebook-cam-accounting-101