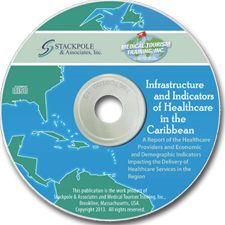 This report highlights the need for the standardization and harmonization of how data and information are collected and shared within the region.
Brookline, Massachusetts (PRWEB) October 21, 2013
The research report, Infrastructure and Indicators of Healthcare in the Caribbean," has been launched as the first complete canvas of the international health care systems across the region. Detailing the comparative healthcare infrastructures and related information in the Caribbean, the 300+ page report delivers this information and more in one, easy to use, comprehensive resource.
Created jointly by health care experts at Medical Tourism Training Inc. and Stackpole & Associates, Inc. this comprehensive report details the types and locations of health care providers in 26 Caribbean islands and offers an in-depth analysis of economic and demographic data that directly impact the region's health care services. Designed to assist healthcare policy development and resource allocation, this compendium of data is a key single resource for decision-makers, capital investment, human resources development and deployment and strategic planning. Infrastructure and Indicators can be used to improve access to health care services for local populations and for medical travelers. This fact-based study demonstrates the comparative areas of excellence in the region, as well as identifying the gaps in health care delivery.
According to Irving Stackpole, President of Stackpole & Associates, "Our attempts to secure this marketplace intelligence several years ago demonstrated the need for this single reference. We are pleased to offer this resource as an international benchmark for the region to those interested in and responsible for healthcare as well as medical tourism. We expect this information to be extremely useful and represent a model for objective, reliable data gathering and reporting."
A milestone achievement of international healthcare research, this substantial tool will benefit governments, nongovernmental organizations, agencies working in the region, consultants and private enterprise. The report dispels the myth that the Caribbean is a monolithic block of countries with few differences or distinctions. Elizabeth Ziemba, President of Medical Tourism Training Inc., states, "The data clearly demonstrates the diversity of services available in the Caribbean, identifying gaps and opportunities to improve healthcare services for local populations and to attract international patients."
With more than 300 pages of maps, tables, charts and analysis, the report contains information about 26 countries including:

Maps containing the location of hospitals, clinics and other health care providers
Economic and demographic data about each country
Charts comparing each of the data points among all 26 countries
Analysis of the findings to provide an accurate picture of the state of health care services in the region
Never before has this level of granular detail been available for easy comparison in a single resource. This valuable report is now available in three convenient formats: as a single document download; on CD; or a printed & bound report. For more information about this report, or to purchase copies, please contact Irving Stackpole, President of Stackpole & Associates at istackpole(at)stackpoleassociates(dot)com or call (617) 739 5900 x 11.
About Medical Tourism Training, Inc.:
Medical Tourism Training, Inc. offers training and consulting services to the individuals and organizations involved in the rapidly growing international health travel sector. With a focus on the skills and knowledge designed to improve the patient and customer experience, the company is the first to market affordable, convenient, and easy to use eLearning solutions. Other services include workshops, seminars, and consulting services for the medical travel sector. Medical Tourism Training delivers high quality, multi-lingual on-site and on-line training and consulting services including health care research designed to create measureable change for its clients.
About Stackpole & Associates, Inc.:
Stackpole & Associates, Inc. is a marketing, market research, customer service and sales training firm. Since 1991, the firm has applied scientific marketing principles to develop practical solutions to clients' challenges. Using the most rigorous psychological and behavioral science research, Stackpole & Associates develops methods and designs that produce unimpeachable data yielding reliable, actionable recommendations. Stackpole & Associates works collaboratively to create innovative and practical solutions to the challenges facing organizations in rapidly changing markets.