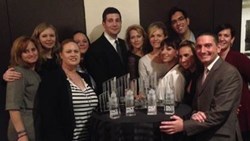 Atlanta, GA (PRWEB) October 15, 2013
Gables Residential is highly recognized by the Property Management Association (PMA) as it honored the region's most outstanding apartment communities at the third annual PMA Apartment Community Excellence Awards (PACE) celebration, held October 10th.
Gables Residential takes home five coveted awards:
Gables Centerpointe, Gables Residential, Special Award Best Green Community
Gables City Vista, Gables Residential, Winner Market Rate DC
Gables Takoma Park, Gables Residential, Winner Market Rate MD
Gables Upper Rock, Gables Residential, Best in Show, Market Rate MD
Westbrooke Place, Gables Residential, Judge's Choice
According to PMA Executive Vice President Thomas B. Cohn, "PACE recognizes exceptional apartments and identifies communities that are passionate about providing exceptional resident services and delivering unparalleled living experiences. PACE not only celebrates excellence in the management of apartment communities, it also fills a void. PACE is the only awards program in the national capital region that evaluates apartment communities on their operating efficiencies and ability to deliver world-class customer service. Unlike many apartment award programs in other parts of the nation, PACE is not a beauty contest or a program to honor as many communities as possible. Instead, PACE looks to recognize truly extraordinary properties that are the best of the best."
The PACE Awards competition was open to all national capital area apartment communities. In 2013, more than 175 communities, serving as home to nearly 90,000 area residents, competed for PACE honors. Judges were experienced professionals with a combined 275 years of property management experience. None of the judges were affiliated with any of the participating properties.
"We are proud to see that the hard work and dedication of our associates is recognized by the PMA. We believe delivering outstanding customer service while maintaining a high quality living environment is the keystone to providing extraordinary value to our residents. These awards only reinforce our continued focus on Taking Care of the Way People Live," stated Sue Ansel, CEO for Gables Residential.
About Gables Residential
Gables Residential is an award-winning, vertically integrated real estate company and privately held REIT specializing in the development, construction, ownership, acquisition, financing and management of multifamily and mixed-use communities. Gables manages approximately 35,000 apartment homes and 500,000 square feet of retail space in high growth markets throughout the United States, including Atlanta, Austin, Dallas, Houston, South Florida, Southern California and metropolitan Washington, D.C. The company has received national recognition for excellence in development, management, sales, marketing, training, benefits and corporate accommodations. These achievements reflect the impact of the company's experienced and dedicated team members, superior knowledge of the markets served, and expertise