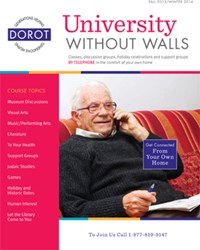 University Without Walls enables those who are homebound due to age or illness to make friends, keep their minds active, and receive emotional peer support.
New York, NY (PRWEB) October 15, 2013
DOROT, a social service agency dedicated to alleviating social isolation among older adults, has begun a new semester of classes and support groups. University Without Walls, To Your Health, Caregivers' Connections, and Russian University Without Walls are innovative programs that creates community for those who have difficulty leaving their homes by offering interactive courses and support groups over the telephone.
Last year, 1,169 older adults participated in 336 courses suiting a variety of interests. University Without Walls classes ranged from visual and performing arts to literature, current events and games. They include political discussions, samplings of current museum exhibits, poetry writing, and sing-alongs. Among the new offerings this semester is a group of courses, presented in partnership with The New York Public Library and the New Rochelle Public Library, focusing on Edgar Allen Poe, the New York film industry, music and the history of the city of New Rochelle.
In addition to the intellectual stimulation of continuing education through University Without Walls, elderly benefit from health-related courses and discussion groups provided in DOROT's To Your Health teleconference program. These classes are conducted by professionals in the healthcare field who share their expertise on such topics as Medicare, Alzheimer's, emergency preparedness, food and nutrition, de-cluttering and meditation. Additionally, Caregivers' Connections, a specialized group of sessions for caregivers of older adults, gives encouragement and guidance through weekly telephone support groups which reduce the isolation and stress of those whose movements are limited by their sometimes overwhelming responsibilities. DOROT also offers classes and discussion groups conducted in Russian and English for Russian-speaking homebound seniors. These courses develop their English conversational skills in English and promote acclimation to their adopted community. One of the program's most acclaimed courses prepares these older adults for the U.S. citizen examination.
"For 24 years, DOROT's teleconference programs have renewed the ability of frail and isolated older adults, many of whom have serious issues with mobility, to participate in life and be part of a community," said Mark L. Meridy, Executive Director of DOROT. "The beauty of the telephone is that everyone is comfortable using it. University Without Walls enables those who are homebound due to age or illness to make friends, keep their minds active, and receive emotional peer support."
About DOROT
Since 1976, DOROT has worked to alleviate social isolation among the elderly and provide services to help them live independently as valued members of the community. We serve the Jewish and wider community, bringing the generations together in a mutually beneficial partnership of elders, volunteers and professionals. Visit http://www.dorotusa.org for more information.