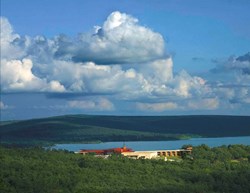 The day that Liberty's parents contact Narconon Arrowhead she felt reborn. 'I had a new beginning at life,' she said
Canadian, Oklahoma (PRWEB) October 17, 2013
Eighteen months ago, Liberty Burkhart describes looking at herself in the mirror. Her refection was lifeless. She wondered why her eyes were dull and her soul was swimming in a pool or darkness. The answer came to her quickly; it was her drug use. Growing up in the country on a farm, Liberty never thought she would end up addicted. Her parents instilled family values in her, hard work and taught her right from wrong. She had wanted to dedicate her life to helping others, but at 10 years old when she underwent a series of surgeries she found both mental and physical comfort in the form of a prescription pain pill.
Liberty started abusing the pills at this young age and continued abusing drugs for many years after. She managed to clean up for periods of time. She had children and began to create her own family. Years later the addiction resurfaced. In a very short period of time, she lost her children, friends and overall self-respect.
Her family, like most families, were confused, sad, frustrated and angry. They weren't sure what to do to help Liberty. They wanted her to stop on her own but were not aware of the complexities of addiction. Eventually, and as the problem worsened, they reached out for professional treatment, calling the Narconon Arrowhead rehab facility.
Reborn Through Treatment
The day that Liberty's parents contacted Narconon Arrowhead she said she felt reborn. "I had a new beginning at life," she said. The Narconon program is a successful drug and alcohol rehabilitation facility that started in Oklahoma 22 years ago. The program is located at Arrowhead State Park in Canadian and has helped over 10,000 clients.
Based on a recent series of outcome studies, reviews, staff reports and graduate surveys have determined that approximately 70% of Narconon graduates live drug-free lives as well as staying out of trouble and returning to work or school, for periods ranging from 6 months to several years.
Liberty spent the following months at the facility completing the program. She had days that were rocky, and she had to work hard to continue to fight the demons that wrestled her for her sobriety. But, Liberty won. She got through the tough days. She could see the positive changes in herself. She even decided to stay at the facility after fully completing her treatment program and do an extensive training program where she could help others who were struggling with addiction.
Today Liberty is grateful for the support and love of her family and the chance to get sober. She is thankful for Narconon Arrowhead and looks forward to her life ahead.
For more information on the program at Narconon Arrowhead call 800-468-6933 to speak with an addiction specialist or go to http://www.narcononarrowhead.org.
To read Liberty's full story of recovery through our Narconon Arrowhead reviews site go to: http://narcononarrowheadreviews.com/how-i-overcame-the-guilt-from-drug-use/.