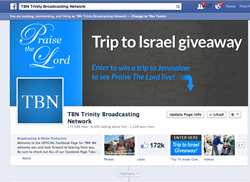 (PRWEB) October 14, 2013
Trinity Broadcasting Network, the world's largest Christian broadcaster and America's most-watched faith channel, is launching a state-of-the-art studio in Jerusalem, the heart of the Holy Land, and you could be a part of the grand opening and dedication.
That's right, TBN is offering an all-expenses-paid trip for two to Jerusalem and the Holy Land November 16 through 23 to be a part of the studio's official launch and dedication, and all you have to do to register for this incredible giveaway is visit TBN's Facebook page. "Facebook has become the premier social site for people all over the world," said Matthew Crouch, TBN's Vice President. "And TBN's Facebook page is the go-to site for keeping our viewers informed about programming, features, and special news — like this once-in-a-lifetime trip to Jerusalem and the Holy Land."
In 2012, TBN launched its Jerusalem-based Shalom Channel to provide 24-hour life-changing programming to the millions of Russian Jews who have returned to their homeland. Now, it has added a four-story high-definition studio and production facility just a stone's throw from historic Mount Zion, Mount Moriah, and the Mount of Olives. In addition to serving as the headquarters for TBN Shalom, the studio will be used to produce programming for TBN's Farsi-language Nejat network, the Arabic-language Al-Horreya network, and many other TBN international channels.
The winner of the contest and his or her guest will be treated to deluxe accommodations in Jerusalem, join in some exciting tours of historic and biblical sites in the area, and, most importantly, participate in several tapings of TBN's signature music and ministry show "Praise the Lord" in the new Shalom studios in Jerusalem.
Hosted by Matthew and Laurie Crouch, guests for these memorable "Praise the Lord" programs will include popular musician and prophetic speaker Kim Clement; author and noted Bible prophecy expert Irving Baxter; Messianic pastor and author Jonathan Cahn; Igor Nikitin, director of TBN Russia and TBN Shalom; Dr. Raafat Girgis, director of TBN's Al-Horreya network; along with pastors, musicians, and ministers from throughout Israel.
Matthew Crouch noted that for many years his parents, TBN founders Paul and Jan Crouch, prayed diligently for a facility in Jerusalem to broadcast Christian programming throughout Israel and the Holy Land. "The launch of the Shalom Channel and TBN's Jerusalem studio represent an awesome answer to those petitions and the prayers of our many partners," he said. "We look forward to sharing this official roll-out and dedication with our viewers all over the world — and with our special Facebook contest winner. This will be an unforgettable experience."
Requirements to register for the trip giveaway are simple: to participate, you must be a U.S. resident, at least 21 years of age, have a valid U.S. passport, and be available to travel November 16 through 23, 2013. Deadline to register for the contest is Midnight, October 31, 2013. The winner will be randomly selected and informed after that date.
For more information or to register for TBN's Jerusalem Trip Giveaway, log on to http://www.facebook.com/trinitybroadcastingnetwork.