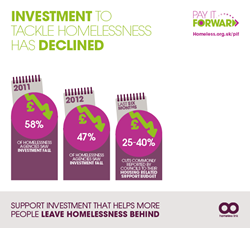 These figures highlight how common the experience of being without a home really is and the impact homelessness has on individuals and communities.
(PRWEB UK) 15 October 2013
With the number of homeless households up 33% since 2010 , eight out of ten people polled believe that councils should be doing more to help people.
Yet despite rising homeless numbers, research indicates that the help available for people is shrinking.
Since 2010, 133 homeless projects have closed, over 4,000 bed spaces have been lost and the number of full-time staff in the sector has fallen by 16%. While nearly half (47%) of homeless services last year reported a fall in investment – by an average of 17%.
According to the umbrella body for homeless charities, intelligence suggests investment in services could fall even further. Councils in the last six months have commonly reported cuts of between 25-40% to housing-related support budgets.
Not having a home causes mental and physical harm to individuals and is costly to society. According to Homeless Link data, of those experiencing homelessness, 72% have mental health issues, 56% long term physical health needs and only 6% are in employment.
Homeless services help over 40,000 adults each year, yet many charities report that budget cuts are impacting on their ability to support clients into homes and employment.
In 2012, more than half of services whose funding had been cut believed it resulted in increased rough sleeping (65%) and anti-social behaviour (56%).
With 76% of people agreeing that tackling homelessness is beneficial to their community, Homeless Link has launched Pay it Forward, a campaign calling on councillors to back continued investment in homeless prevention and support in 2014.
Rick Henderson, Chief Executive of Homeless Link, said:
"These figures highlight how common the experience of being without a home really is and the impact homelessness has on individuals and communities. Homelessness services play a vital role in helping people rebuild their lives, but can only do so if they continue to receive sustainable long-term funding.
"Whilst we understand the pressure councils are under, we also know that investment in tackling homelessness is in everyone's interest and is backed by the public. Homeless Link is calling for all councils to commit to supporting the innovative projects throughout the country that change lives and benefit society every day."
Backing the campaign, the new Lord Mayor of Liverpool, Gary Millar, said:
"I've seen first-hand the important work projects do each and every day to help people take the steps towards escaping homelessness. It is inspiring to see these projects support individuals get back on track and move on with their lives in a positive way.
"Helping people to take these steps is beneficial to everyone and helps create stronger, more unified communities. That's why I'm proud to back the Pay it Forward campaign and the future of homelessness projects."
For more information, visit http://www.homeless.org.uk/PIF.
About Homeless Link: We are the national membership charity for organisations working directly with homeless people in England. With over 500 members, we work to make services for homeless people better and campaign for policy change that will help end homelessness.