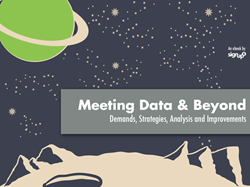 Atlanta, GA (PRWEB) October 15, 2013
SignUp4, the innovative meeting management technology provider, today announced from booth #3156 at IMEX Las Vegas, the release of a free eBook, "Meeting Data & Beyond: Demands, Strategies, Analysis & Improvements." Meeting professionals understand the evolving industry and the ever-growing demand for data, however, compiling that data and communicating effectively to create visibility and gain buy-in from stakeholders proves challenging. SignUp4 has developed this eBook around the value of meetings data and what it brings to an SMM program.
The eBook includes contributed pieces from high-level industry experts covering topics such as data basics, pitfalls to avoid, strategies for meetings data, bringing policies to life, and managing mature programs. It also includes sample ROI data reporting, powerful ROI equations and a sample data collection plan.
"Data drives decisions and proves value. This eBook provides valuable insights and strategies to manage and leverage meetings data. It helps planners truly manage their spend and answer the tough C-level questions," stated Melanie Hall, VP of Marketing at SignUp4. "This resource is one of many content initiatives from SignUp4 to educate event professionals in a demanding industry."
Among the many best practices shared by our industry partners, leveraging event management software is a common theme. Integrating technology and automation to further drive the necessary compliance and corporate responsibility faced by many organizations is a best-in-class must have for success.
To access the eBook, visit http://www.signup4.com/press-releases/new-signup4-meeting-data-ebook/.
About SignUp4
SignUp4 is the innovative meetings intelligence provider offering the highest quality strategic meetings management solutions with an affordable unlimited usage model. The goal of SignUp4′s meetings intelligence suite is to streamline workflows, simplify and drive registrations, efficiently manage travel logistics, improve communications, and provide visibility into meeting spend for leveraging contract negotiations and increasing ROI. With over a decade of experience, 3,500 users and over 80 of the Fortune 500, we understand the value of your time and events. Learn more at http://www.signup4.com follow us @SignUp4.