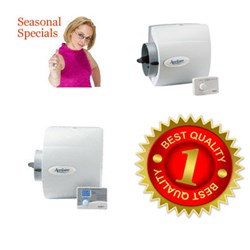 Huntley, IL (PRWEB) October 21, 2013
Remember the first snow of 2012? Sure was pretty however many homeowners woke up with a dry scratchy throat from the dry air produced by the furnace. This dry air may also cause itchy eyes, nose bleeds, dry skin not to mention the static electricity shock and even cracked woodwork. It only gets worse as the heating season continues. This is totally preventable by simply adding a whole house humidifier to your furnace system. FiltersAmerica.com is featuring the Aprilaire Brand of automatic humidifiers that keep your home within recommended relative humidity range of 35% - 55%. Set it and forget it! No more filling and lugging around water tanks for room humidifiers. Whole house humidifiers saves energy and lowers your heating bills by providing an increase to "apparent temperature". With the added humidity, you can lower the thermostat and still feel warmer.
FiltersAmerica.com offers several popular Aprilaire models to choose from that work well in houses all the way up to 4,200 square feet of living space. These computerized models with outside sensors and digital controls automatically adjust for maximum efficiency. Make it a week-end do-it-yourself or hire an installer, Aprilaire Automatic humidifiers are awesome. Quiet, efficient and reliable they are a valuable addition to your heating system. Learn more about the Aprilaire Humidifier at FiltersAmerica.com.
If you already have an Aprilaire humidifier, FiltersAmerica.com has the tune-up parts to keep them running as efficient as when it was installed. From evaporator water panels to replacement parts, FiltersAmerica.com has it all. FiltersAmerica provides great values and delivers products to your doorstep, even on Saturdays.
FiltersAmerica.com with its warehouse and distribution facility located in Huntley, Illinois, delivers all types of indoor air quality products such as high efficiency furnace and air conditioning filters, Hepa air cleaner filters and humidifier evaporator panels directly to the consumer. FiltersAmerica buys in high volume, passing down the savings to the consumer, including many hard-to-find air filters including great prices on refrigerator water filters. FiltersAmerica.com was founded in 2001 by a team of HVAC experts with a goal to deliver the convenience high quality products to consumers doorsteps at factory direct pricing.
We put our combined 60 years of HVAC expertise into educating consumers on getting the best quality air in their home. Whether fighting allergens, mold, dust or simply looking to improve the overall quality of their home's air, FiltersAmerica.com shows homeowners the best way to improve indoor air quality. You can see what it's all about at http://www.FiltersAmerica.com.