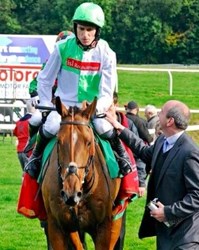 "Perfect Candidate ran a fantastic race"- Fergal O'Brien
Bristol (PRWEB UK) 16 October 2013
Perfect Candidate, the racehorse running in ISL Recruitment's colours because of their sponsorship of Fergal O'Brien Racing, once again gave his owners reason to continue their dreams of racecourse glory following an impressive performance in a novice hurdle race over 2.5 miles at Chepstow on Saturday
His breeding and physique means his long term future is as a long distance chaser but his lack of racecourse experience led trainer Fergal O'Brien to consider another hurdle race over the shorter distance was the best race for him. He did not disappoint, jumping his way into the lead at the first hurdle and leading until the last when the winner, a highly rated novice hurdler, overtook him. In spite of pressure from other good horses he held onto second place running on strongly to the finish.
Fergal O'Brien, his trainer, said afterwards- "Perfect Candidate ran a fantastic race... Given a great front running ride by Paddy, he is a big, scopey horse, and is generally regarded by all as a staying chaser in the making, so to get such a good result in a hurdle race over 2m4f (which is plenty short enough for him too), makes us all very excited for his future"
###
NOTE FOR EDITORS
For further information, please contact: Alan Furley or Henry Keeys (Directors).
Incite Solutions was founded in 2007 by two experienced recruitment consultants with the aim of creating an environment that supports experienced recruiters providing a comprehensive recruitment service to clients in a particular market or looking for a particular skills set . It has grown consistently since then and expanded into larger offices on an annual basis. ISL specialise in the recruitment of experienced professionals across sales and marketing, project management, IT and operations in the following sectors: financial services; technology; retail; public sector.