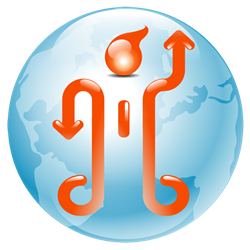 The association of No Call Roaming with i-Mobb and No Data Roaming with T-Mobile is the end of the Roaming Empire!" is saying Bernard Drai, CEO of i-Mobb.
New York, NY (PRWEB) October 14, 2013
As seen on Cnet, "T-Mobile's latest shake-up on October 9th, puts international roaming rates in its sights, with the carrier entirely eliminating fees for data and text messages in more than 100 countries."
What about calls ?
i-Mobb, the bestselling no roaming app for iPhone and Android that connects world travelers to business partners, friends and family, has recently announced new international calling plans for T-Mobile customers to eliminate all call roaming fees.
For a fixed subscription equals to the price of few minutes of talking time, people will be able to give and receive unlimited calls for the duration of their international trip without any roaming charges.
Users will furthermore be able to call unlimited 60 countries. Subscriptions are affordable and customizable to the length of the trip, from a week up to a month of service.
The new plans will also allow customers to purchase recurring subscriptions--an especially helpful feature for frequent corporate travelers.
"The revolutionary combination of new Calling plans from i-Mobb and new Data plans from T-Mobile will give travelers the best package on the market.
"No Data Roaming and No Call Roaming: The end of the Roaming Empire!
"Now that T-Mobile provides unlimited data roaming in 100 countries, we're that much closer to bringing affordable, reliable communication to users across the Globe. The world is becoming one territory and people will freely use their devices anywhere, anytime, for the duration of their trips," said Bernard Drai, CEO of the no roaming app company.
i-Mobb is also available for users from 38 major countries, with more scheduled to be added in future updates.
i-Mobb began as a free roaming app available for people from eight countries, including the U.S., Canada, the U.K., France, Japan, Germany, Italy and Netherlands. Thirty countries were recently added making the app accessible to users from most first world countries, including Hungary, Ireland, Israel, Poland, Mexico, Brazil, Honk Kong, Sweden, South Africa and Australia. The App has also added a Push-to-Talk function for the iOS and Android version, allowing travelers from those 38 countries to receive and give their calls while using other applications.
i-Mobb, has recently started a new reseller application that makes it even easier for travel profesionals and vacation companies to provide the latest technology to their clients.
To find out more about the no roaming app, visit http://www.i-Mobb.com. Travelers interested in the app's latest version can also connect with i-Mobb's social network profiles, including those on Facebook at http://www.facebook.com/iMobbTheGlobe and on Twitter at http://www.twitter.com/iMobbTheGlobe