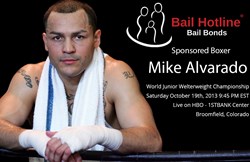 He is in great shape, and we expect this to another great fight for Alvarado. We enjoy supporting positive and high achieving role models in the community. - Marco McGuire
Riverside, CA (PRWEB) October 15, 2013
Mike Alvarado (34-1) is coming off a unanimous win over Brandon Rios in the much anticipated re-match back in March, and is set to meet Provodnikov (22-2) on Saturday October 19, 2013. Alvarado is expected to earn more than $1 million to fight Provodnikov, likely almost doubling his previous career high.
"He is in great shape, and we expect this to another great fight for Alvarado. We enjoy supporting positive and high achieving role models in the community," commented Marco McGuire. "We backed him against Rios, and I hope we bring him some luck against Provodnikov!"
About Bail Hotline Bail Bonds
With over 30 offices throughout all of California, Bail Hotline Bail Bonds offers thorough and quality assistance to individuals and families 24 hours a day, seven days a week. A family-owned and operated business, Bail Hotline strives to provide the best bail services in both minor and severe situations. If you cannot make it to one the bail bond offices, Bail Hotline's mobile service can assist you. Call 1-888-958-1228 or fill out our form for more information.