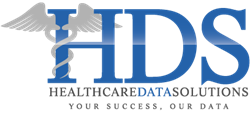 ...it's imperative that we create and offer solutions to our clients as healthcare technology evolves...
Irvine, CA (PRWEB) October 14, 2013
Healthcare Data Solutions, an accurate and trusted provider of healthcare databases and healthcare industry business intelligence services, announced today their launch of two exciting new products – EHR PRO, which indicates Electronic Health Record (EHR) utilization status of healthcare Providers; and ePrescribingPRO, which helps improve pharmacy refill accuracy.
Healthcare Data Solutions' EHR PRO flags a client's master file with an indicator of whether a provider utilizes an EHR solution, and can be used to append their existing file with this indicator. Clients save time and money with accurate EHR data for sales and marketing initiatives. Some important fields available to go along with the indicator in EHR PRO include practice name, phone number, business address, email address, specialty information and more.
ePrescribingPRO from Healthcare Data Solutions is used by pharmacies to ensure refill transactions are accurately delivered to the correct Providers' EHR. The data in ePrescribingPRO helps pharmacies perform electronic refill requests by validating eRx ID numbers, provider name and address information so pharmacies can accurately transmit prescriptions to intermediaries.
"Both products are the latest additions to our database solutions," says Miranda Rochol, Vice President of Product and Strategy. "While Providers are turning quickly to EHR records and practice management solutions to manage their practice, it's imperative that we create and offer solutions to our clients as healthcare technology evolves."
About Healthcare Data Solutions
Healthcare Data Solutions is a leading healthcare information services company focused on building and maintaining the most accurate, compliance-grade data on Physicians, Dentists, Nurse Practitioners and other Healthcare Providers, as well as Pharmacies and Hospitals. Healthcare Data Solutions provides healthcare data, physician validation programs, data processing, compliance services, web services and new customer acquisition programs for leading healthcare firms. Compliance clients can access over 5 million healthcare provider profiles to crosswalk government databases for accurate reporting. Healthcare Data Solutions is the fastest growing healthcare data services company in the United States on both the Inc. 5000 and Deloitte Fast 500 list. For more information, visit HealthcareDataSolutions.com.