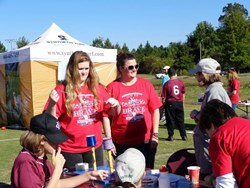 "These athletes set a great example of overcoming challenges to achieve success," said Lanny Bailey, CEO of Controlled Products.
Dalton, Georgia (PRWEB) October 15, 2013
Controlled Products, LLC, the leading manufacturer of synthetic turf worldwide, just completed its 3rd consecutive year sponsoring the Georgia Special Olympics State Fall Games in Dalton. With over 1,300 Special Olympics athletes, 200 unified partners, and 500 coaches from around the state, the Fall Games were a huge success.
"Being part of such a fantastic organization is something we take a lot of pride in. We have, for the last 3 years, been part of the Georgia State Special Olympics in Dalton, GA. These athletes set a great example of overcoming challenges to achieve success. We firmly believe in the Special Olympics mantra, 'To show the world that every person counts and that every person can be something good when we work together.' This is just a great opportunity for us to provide support to a great organization and we are also proud of our employees who volunteer their time on behalf of Controlled Products," said Lanny Bailey, CEO of Controlled Products.
The Special Olympics athletes had a great time this weekend competing in many different sports including Bocce, Cycling, Softball, Softball Skills, Long Distance Walking and Running, Golf and Golf Skills. The event was staffed with many volunteers who are dedicated to providing the highest quality programs and services to the athletes. These volunteers also serve as area directors, certified coaches, event staff, unified sports and fundraising partners, like Controlled Products. The continuing success of the organization depends on the ongoing support of the community and partners.
Controlled Products is the parent company of Synthetic Turf International (http://www.synthetic-turf.com), whose network of distributors installs synthetic turf for golf, landscape, playground, pet turf and indoor sporting facilities; Sporturf (http://www.sporturf.com) who supplies large athletic catalog customers and sells and installs athletic fields through preferred partners; GrassTex (http://www.grass-tex.com), which distributes products through retailers, carpet stores and rock yards; Grass Turf Mills (http://www.grassturfmills.com), manufacturer of private label brands for dealers and resellers and Aqua-Fab, designer of custom logos and images for synthetic turf projects.
About Special Olympics
Special Olympics is an international organization that changes lives by promoting understanding, acceptance and inclusion between people with and without intellectual disabilities. Through year-round sports training and athletic competition and other related programming for more than one million children and adults with intellectual disabilities in more than 180 countries, Special Olympics has created a model community that celebrates people's diverse gifts. Founded in 1968 by Eunice Kennedy Shriver, Special Olympics provides people with intellectual disabilities continuing opportunities to realize their potential, develop physical fitness, demonstrate courage and experience joy and friendship. There is no cost to participate in Special Olympics for athletes. http://www.specialolympicsga.org/
About Controlled Products
Headquartered in Dalton, Georgia, Controlled Products (http://www.cpturf.com) produces the highest quality synthetic turf in the industry for every possible application. Sustainability, innovation, research, the ability to customize deliverables and the use of advanced, state-of-the art technology are key priorities for the organization. Established in 1989, Controlled Products is an ISO 9001, ISO 14001 and OHSAS 18001 company. As a founding member of the Synthetic Turf Council (STC), and a STC Certified Manufacturer/Supplier, their expertise is unmatched in the industry. Their synthetic turf products are currently in use in thousands of athletic fields, playgrounds, landscape projects, golf courses and indoor sport facilities throughout the world. To learn more, visit http://www.cpturf.com, call (800) 562-4492 or contact the company at Controlled Products, LLC, 200 Howell Drive, Dalton, Georgia 30721.