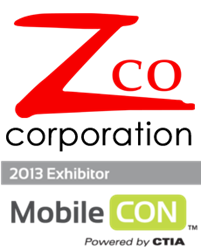 Nashua, NH (PRWEB) October 15, 2013
Representatives of Zco Corporation, one of the largest app development companies in the world, will be available for consultation at MobileCON 2013. Zco will be present on the exhibit floor for the entire conference, October 16-18, at the San Jose Convention Center.
MobileCON was created specifically for the IT executive and professional. It aims to be a premier destination for learning how to solve problems in mobility and find solution providers in person. This event is focused on business and mobile IT and is organized by CTIA-The Wireless Association. This is the first year MobileCON takes place in Silicon Valley.
Zco joins more than 100 total exhibitors and will be stationed at booth 316 in the Enterprise Apps Pavilion, just outside the main keynote room by the keynote entrance. Experts will be on hand to discuss enterprise mobility, custom and hybrid mobile app development, and creative services like gamification, augmented reality, and 3D animation that can enhance mobile applications.
In addition to being available throughout the expo, Zco's representatives will give two presentations at booth 316: at 1:30 p.m. on October 17, and at 11:30 a.m. on October 18.
Other areas of exhibitors include the Launchpad Pavilion showcasing mobile startups; the M2M Zone with Machine-to-Machine communication services; the Security & Privacy Pavilion; and the Telecommunications Management Pavilion.
CTIA expects more than 8,000 attendees from more than 2,000 companies. The conference will include interactive Thought Leadership Sessions, an Answer Bar, and Keynote Sessions from industry leaders.
According to a February report from iPass, more than 52 percent of IT managers said that their companies were developing apps, including both native device apps and web-based apps. Survey respondents cited data security and ongoing support as top concerns, especially when apps and devices were not managed by the company. Nevertheless, the productivity gains make a mobile strategy essential. In a Cisco report, 36 percent of workers who use their own mobile devices for business purposes reported that they had saved two or more hours per week.
About Zco Corporation
Zco Corporation, founded in 1989 and headquartered in Nashua, NH, is one of the largest mobile application developers in the world. Zco has experience creating custom mobile applications, enterprise applications, 3D animation, and augmented reality on various platforms like iOS, Android, Windows Phone, BlackBerry, Symbian, and HTML5. As an expert in the industry, Zco strives to be on the forefront of mobile app development and creating custom applications for its clients.