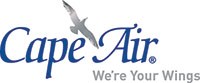 Billings, Montana (PRWEB) October 22, 2013
Cape Air, the nation's largest commuter airline, will begin serving Eastern Montana beginning Tuesday, December 10, 2013. From its hub in Billings, Cape Air will operate daily, year-round flights to five regional communities.

Billings (BIL) – Sidney (SDY): 5 daily, round-trip flights
Billings (BIL) – Glendive (GDV): 2 daily, round-trip flights
Billings (BIL) – Glasgow (GGW): 2 daily, round-trip flights
Billings (BIL) – Wolf Point (OLF): 2 daily, round-trip flights
Billings (BIL) – Havre (HVR): 2 daily, round-trip flights
Cape Air's President, Linda Markham, shares, "We are viewing the start of service in Montana as an exciting chapter in our organization's history. The opportunity to provide frequent, consistent air service, create new jobs and become a community partner to these six cities is one that we eagerly welcome."
All seats on all flights are priced at $49 each way, and include all taxes and fees. While service does not begin until early December, reservations can be made now by visiting capeair.com or by calling 800-CAPE-AIR.
About Cape Air
Now in its 24th year, Cape Air is one of the largest independent regional airlines in the United States annually flying over 750,000 passengers to destinations around the world including New England, New York, the Caribbean, Florida, the Midwest and Micronesia. With a fleet of seventy-five Cessna 402s, three Britten-Norman Islanders and two ATR-42s, the employee-owned company operates up to 850 flights per day. Based in Hyannis, Massachusetts, Cape Air also operates flights under the Nantucket Airlines brand. Cape Air is a codeshare partner with United Airlines and American Airlines in the Caribbean and American Airlines in the Midwest. In Micronesia Cape Air operates as United Express. In addition, Cape Air has ticket and baggage agreements with most major airlines. Cape Air's unique brand of customer service, MOCHA HAGoTDI,* has earned the airline accolades as 'Best Airline' on Nantucket, Martha's Vineyard and in the United States Virgin Islands. The airline has been recognized for outstanding philanthropy in the communities it serves and Cape Air Founder and CEO Dan Wolf was recipient of the Ernst & Young Entrepreneur of the Year™ Award.
*Make our Customers Happy and Have a Good Time Doing It