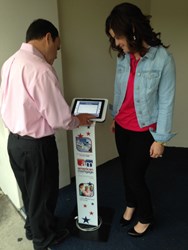 Not only did we save on labor dollars, but we were able to access the information instantly...
Long Beach, CA (PRWEB) October 16, 2013
Home Builders Association of Greater Cincinnati (HBAGC) approached Avius Insight in 2012 to help them modernize their feedback collection. Avius delivered an eye-catching iPad survey with questions about the products showcased at their heavily attended single site new home showcase HOMEARAMA® show in Cincinnati. HBAGC was impressed not only with the survey graphics, but also the ease of the web-based reporting which eliminated the time and expense that it previously took them to tally the results. Dan Dressman, Executive Director of one of the nation's largest HBA Chapters shares, "Not only did we save on labor dollars, but we were able to access the information instantly, without having to wait weeks for the data to be rolled up manually. I wish we had done this years ago!"
While most Avius clients typically do not provide incentives in exchange for respondents to share feedback, HBAGC proved the power of offering incentives to drive extraordinarily high usage yielding an amazing 10% capture rate for this type of event. HBAGC offered a $100 cash prize where people were literally waiting in line to give their feedback and vote for their Favorite Landscaping, Favorite Decorating and Favorite Home at this year's HOMEARAMA®. HBAGC used four iPad survey kiosks and has now doubled their order for 2014 to obtain even more feedback and greater opportunity to participate in the drawing.
HBAGC creatively involved marketing partners by selling advertising space on the iPad kiosk exterior wrap. This gave HBAGC the opportunity to recover some of their investment and proved that Avius can be an extraordinarily affordable solution.
One of the reasons why HBAGC moved forward with Avius Insight was as a result of the turnkey services which include their award-winning survey software interface, hardware and research methodology. Karen Pfeiffer, HBA Director of Operations adds, "Our organization operates lean and we do not have the time to use some of the self-help, self-administered tools available in the market. Nor did we have the time to search for appropriate hardware. We needed a one stop shop for all of our needs and were so pleased to work with Avius as they were with us every step of the way."
With an ever increasing demand for engaging customers in real-time, Avius is not just for the service and entertainment industries, which were early adopters of the technology. Avius Insight has entered a number of industries recently, including healthcare, health clubs, airports, airlines, sports venues, events, museums, zoos, aquariums and hotels since late 2012. The growing need for businesses attaining feedback is finally showing face through the use of this emerging methodology. "The need for immediate access to guest perceptions makes it no longer acceptable for businesses to entirely rely on post-visit statistics through the use of email pushed surveys or receipt generated invitations to online surveys or even the overused web surveys that have crowded the internet," shares Lance Paul Fisher, Chief Marketing Officer at Avius America, a subsidiary of UK-based Avius Experience, LTD.
Prospective clients may visit and experience Avius Insight products and services in person at the International Association of Amusement Parks and Attractions (IAAPA) EXPO in Orlando at the Orange County Convention Center Booth # 1373 November 19 – 22, 2013.
-end-
For further information, please contact Lance Paul Fisher
Call: 877.495.AVIUS (2848)
Email: lance.f(at)aviusinsight(dot)com
Website: http://www.aviusinsight.com
Notes to editors:
Avius Insight has its headquarters in Long Beach, California with offices in Whitefish, Montana; Los Angeles, CA; San Francisco, CA; Seattle, WA, Boston, MA and Bournemouth, England. Avius Insight has the powerful ability to accurately capture and aggregate both customer satisfaction and employee engagement data in real-time, providing reliable results that enable action toward process and performance improvement. Since 2006, Avius™ has pioneered this technology, serving a global market with the award-winning Avius™ Insight - an electronic survey and feedback system with an award-winning, bespoke software solution, unique hardware designs, turn-key installation, and secure web-based reporting tools. Most recently, Avius Insight has completed successful installations at Rushmore Cave, California Academy of Sciences and the American Heart Association has recently introduced a convenient real-time handheld program for chapters in Southern California.