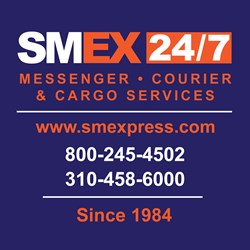 With over three million pickups and deliveries completed and an over 97% on-time rate, SMEX 24/7 has set a new standard in quality and efficiency
Los Angeles, CA (PRWEB) October 16, 2013
There's a reason why SMEX 24/7 has been Southern California's #1 Messenger, Courier, and Trucking service since 1984.
SMEX 24/7, the leader in expedited and professional Messenger, Courier, and Trucking services in Southern California, is pleased to celebrate almost 30 years of successfully providing unsurpassed services to businesses and individuals within Los Angeles county and beyond.
SMEX 24/7 provides fast, reliable, and professional express messenger, courier, and, trucking services 24 hours a day, seven days a week, 365 days a year. All services are completed by fully licensed, bonded, and insured drivers. SMEX 24/7 also incorporates the latest technologies to provide the most efficient and cost effective messenger, courier, and trucking services for their clients throughout Southern California and beyond. Their friendly and knowledgeable staff places the unconditional satisfaction and peace of mind for their valued clients as top priority.
SMEX 24/7 offers a full range of direct, nonstop Messenger, Courier, and Trucking services throughout Southern California and beyond. They also offer specialty service for medical deliveries with OHSA & HIPPA certified drivers available all throughout Los Angeles County.
SMEX 24/7's service is a cut above and beyond the rest. With over three million pickups and deliveries completed and an over 97% on-time rate, Santa Monica Express has set a new standard in quality and efficiency when it comes to providing the very best Messenger, Courier, and Trucking Services in Southern California.
SMEX 24/7 offers the following services:
-Express (Direct, Nonstop Pickup & Delivery)
-Regular (Pickup & Delivery within 3-5 hours)
-Standard (Same Day/Economy, Ready by 10:30 a.m. and Delivered by 5 p.m.)
SMEX 24/7 has been offering Courier, Messenger, Scheduled Route, Trucking and On-Site Transportation Management & Staffing Services to some of the best companies in Los Angeles County area since 1984—that's 29 years of unblemished service. SMEX 24/7 has also been the top trusted choice for many local businesses of all size including some well known fortune 500 companies. They are also the courier of choice for many celebrities for efficient handling of time sensitive packages with special attention to confidentiality and privacy issues. Whether you are calling on behalf of an attorney, architect, artist, a CPA, graphic designer, or medical clinic their professional and friendly staff is ready to help and serve.
SMEX 24/7, Service that's first, Integrity that lasts
Call us toll-free at (800) 245-4502 or visit our website at smex247.com
We have over 80 uniformed, well trained, and courteous drivers ready to pick-up and deliver your package anywhere within Southern California in a timely manner.
Serving: Malibu, Pacific Palisades, Santa Monica, Brentwood, Venice, Marina Del Rey, Culver City, Hollywood, Beverly Hills, Westwood, Burbank, Pasadena, Ontario, Irvine, Anaheim, Torrance, Long Beach, Valencia, Westlake Village, Ventura, Santa Barbara, Riverside, San Fernando Valley, including all of Los Angeles County, Ventura County, Orange County and beyond.