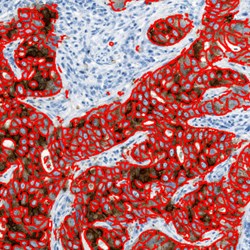 Hoersholm, Denmark (PRWEB) October 15, 2013
Visiopharm a leader in Quantitative Digital Pathology and Omnyx LLC, a joint venture between GE Healthcare and UPMC a leader in digital pathology, partner to advance cancer diagnostics with clinically validated image analysis algorithms for pathologists. Throughout the world there is a pressing need to improve and standardize the diagnostic work on cancer in order to optimize patient care. Image analysis provides quantitative results for prognostic markers and helps drive overall improvement through precision, reproducibility, and standardization within anatomic pathology.
Omnyx provides an Integrated Digital Pathology platform, which includes an end-to-end digital pathology solution, designed to enable third parties like Visiopharm to integrate their image analysis algorithms into the pathologist's workflow. Last year Visiopharm released its first CE-marked, in-vitro diagnostic (IVD) software module for the breast cancer marker HER2. Several other CE-marked software modules are close to being released, providing a complete set of software modules for diagnosis and classification of breast cancer. CE-IVD modules for other tumor panels are also in Visiopharm's development pipeline.
These software modules have been developed and validated on all major staining and scanning platforms in close collaboration with, among others, Aalborg University Hospital and Professor Mogens Vyberg who is also the founder and director of the international quality organization for immunohistochemistry, NordiQC, covering about 400 pathology labs worldwide.
Mamar Gelaye, CEO of Omnyx, stated: "We are excited to be joining forces with a leading algorithm provider such as Visiopharm, to offer a rich and diverse user experience for computer-assisted algorithms. The algorithms will improve pathology workflow and disease diagnostic accuracy, ultimately helping patients to connect with the right treatment. We hope this is only the first of such important partnerships. Omnyx has an open platform that allows users to incorporate their image analysis algorithms directly into the pathologists' workflow."
Michael Grunkin, Founder and CEO of Visiopharm stated: "Visiopharm's APP Execution platform (AEP) makes it fast, easy and cost efficient to integrate image analysis into digital pathology solutions. The Omnyx workflow management software is an excellent fit for Visiopharm's growing portfolio of reagent agnostic IVD and Research Use Only APPs. This collaboration will provide Omnyx and their customers the freedom and flexibility to choose the right algorithms for their diagnostic workflow."
Omnyx and Visiopharm share a commitment to improve the quality of care by offering clinically validated image analysis algorithms that are reagent agnostic. Omnyx will be distributing these approved algorithms upon Visiopharm's completion of the integration and validation.
About Visiopharm
Over the past 12 years, Visiopharm image analysis and stereology software has become the preferred Quantitative Digital Pathology solution for leading hospitals, biopharmaceutical companies, clinical researchers, and academic researchers all over the world. Visiopharm has more than 400 deployed systems worldwide and a large network of distribution and support partners, and is featured in over 550 scientific publications. http://www.visiopharm.com
About Omnyx
Omnyx, LLC is a joint venture of GE Healthcare and the University of Pittsburgh Medical Center with locations in Pittsbugh, Pa., and Piscataway, N.J. The company is developing an enterprise platform to transform the scope of pathology to an all-digital workflow. The company will sell their digital pathology platform to clinical labs and offer an enterprise software platform for image management, workflow automation, image analysis algorithms and system integration along with its high speed whole-slide scanners. Close collaboration with pathologists at UPMC and other institutions along with their relationship with GE Healthcare allows Omnyx to focus its innovation on the needs of anatomic pathologists worldwide. Omnyx digital pathology products are currently in development and have not yet been cleared by the U.S. Food and Drug Administration. Information about Omnyx is available at http://www.omnyx.com.