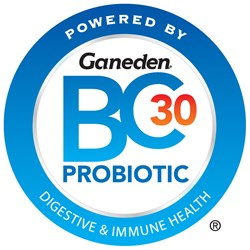 We are focused on expanding globally by establishing a strong foundation with partners who understand the importance of health and wellness
Cleveland, OH (PRWEB) October 15, 2013
Ganeden Biotech, a recognized world leader in the manufacturing and marketing of probiotics, announced today that GanedenBC30 (Bacillus coagulans GBI-30, 6086) is the first Bacillus coagulans to be approved by the Venezuelan Popular Power Ministry of Health for Food Applications, and will now be available in Venezuela as a result of an exclusive distribution partnership with Biotecnologia 3000 C.A.
The new relationship will provide Ganeden Biotech access to leading Venezuelan food and beverage manufacturers, while leveraging the extensive knowledge and experience that Biotecnologia3000 has with the Venezuelan market.
"We are focused on expanding globally by establishing a strong foundation with partners who understand the importance of health and wellness", said Michael Bush, Ganeden Biotech VP of Business Development. "Venezuela is a major player in the South American region of Latin America. Having a partnership with a distributor such as Biotecnologia3000 that has the same focus, along with a substantial understanding of the market, will be a key factor to our success."
Probiotics are "good bacteria" that have been shown to support digestive and immune health. In order for probiotics to be effective they must survive manufacturing processes, shelf life, stomach acids and intestinal bile to arrive in the intestinal tract where they can have the greatest digestion and immune health benefit. Unlike many probiotic ingredients, GanedenBC30 is safe and able to survive harsh manufacturing processes, including baking, freezing, boiling and high pressure. This is due to the spore, a naturally-occurring layer of organic material that protects the genetic core of the bacteria, allowing GanedenBC30 to survive.
"There is a lot of opportunity in Venezuela for a probiotic such as GanedenBC30," said Kristina Antonorsi, General Manager of Biotecnologia3000. "Probiotics have been used in Venezuela, but we have never been able to do the type of applications that GanedenBC30 is able to achieve. Venezuelans are becoming increasingly health conscious and are interested in consuming functional foods and beverages. We are excited to introduce GanedenBC30 to the Venezuelan population, and provide them access to innovative food and beverage products that provide digestive and immune system benefits."
###
About Ganeden Biotech:
Founded in 1997 the Cleveland, Ohio-based Ganeden Biotech is at the forefront of probiotic research and product development with an extensive library of published studies and more than 100 patents for probiotic technologies for the food, beverage, animal health, and now topical ingredients markets. Ganeden is best known for GanedenBC30® (Bacillus coagulans GBI-30, 6086), its patented, FDA GRAS probiotic ingredient found in more than 60 leading food and beverage products. A highly stable probiotic ingredient with physical properties that make it more stable than traditional probiotic organisms (such as Lactobacillus and Bifidobacterium); GanedenBC30 is ideally suited for almost any food, beverage or animal health application. Ganeden's newest ingredient, Bonicel, is a patented, probiotic-derived, topical cosmeceutical ingredient shown to dramatically reduce signs of aging. It can easily be incorporated in virtually any lotion, cream, soap, shampoo or other personal care product. Ganeden Biotech takes special care to help manufacturers develop and market probiotic products. For more information about Ganeden Biotech and licensing opportunities visit http://www.GanedenBiotech.com.
About Biotecnologia3000:
Biotechnologia3000 is a Venezuelan distributor who seeks to contribute to the development of products involving health benefits for those who consume them. Concerned for the welfare and health of consumers, it offers high quality additives that allow them to further enrich more products. For more information, please visit http://www.Biotecnologia3000.com.
About GanedenBC30:
GanedenBC30 (Bacillus coagulans GBI-30 6086) is a patented natural probiotic, or good bacteria, that has been researched and shown to support immune and digestive health. While most strains of probiotics need to be delivered in capsule form or in refrigerated products, Ganeden's probiotic delivery system is different—it's an ingredient that can be added to a wide variety of foods and beverages such as breads and muffins, nutrition bars, yogurt, protein powder, chocolate, and even oatmeal and hot beverages. GanedenBC30 is a highly stable probiotic. It has a naturally occurring layer of organic material that protects the genetic core of the bacteria. This protective layer provides the probiotic the ability to survive extreme temperatures involved in food and beverage manufacturing processes, shelf life, stomach acids and intestinal bile. Other probiotics, such as Lactobacillus and Bifidobacterium, are unable to form this protective layer, making them more vulnerable to manufacturing conditions. For more information, please visit http://www.GanedenBC30.com