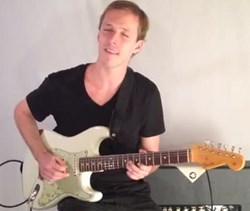 (PRWEB) October 14, 2013
In this guitar lesson, now available on YouTube.com, Jon MacLennan will teach you a classic, yet modern sounding based on the Minor Pentatonic Scale. Free downloadable TAB's are available for this bluesy guitar lesson as well.
This guitar lick, based in the key of C minor, starts off with a common bending riff on the third, second, and first strings that you hear in rock and blues guitar all the time. Jon gives it a jazz element by adding the minor ninth note of the scale. Jon explains about using slides, hammer on and pull offs, and bends to give it more flavor as he works the lick descending towards the sixth string. Jon then shows how to shift positions by sliding down to the next position and then sliding back up again, giving the lick more fret board coverage and finally doing a half step bend on the end to give the minor ninth element on the lower end. "It's a good idea to practice this lick in as many keys as you can," says MacLennan, "you want to have access to the lick in as many keys as possible."
Los Angeles based guitarist Jon MacLennan began his career at the age of 16 and is one of the busiest upcoming session guitarist, artist, composer, producer, and professional educator in LA. Jon has done session work for Julian Lennon, Steven Tyler, and British pop star Jamie Cullum. He has appeared on Disney channels "The Suite Life of Zack and Cody" and on the sound track to the movie "Marley and Me 2 – The Puppy Years." MacLennan earned a bachelor's in ethnomusicology and jazz guitar studies from University of California, Los Angeles, and has been mentored by Carl Verheyen, Wolf Marshall, Kenny Burrell, Anthony Wilson, Tamir Hendelmen, Jimmy Wyble and Ron Anthony which has made him a highly sought after guitar instructor today.
GuitarControl.com is the leader in modern guitar instruction. It's packed with recourses including articles, video lessons, and the best videos in the business for the beginner to the advanced guitar student taught by the best instructors out there. Weather you are into the blues, rock, jazz, metal, folk, or anything in between, they have you covered.