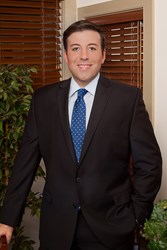 Doylestown, Pa. (PRWEB) October 16, 2013
Bucks County family law firm Williams Family Law, P.C., (http://www.bucksfamilylawyers.com), welcomes Adam H. Tanker as an associate. Mr. Tanker focuses his practice on all aspects of family law matters including alimony/spousal support, divorce, equitable distribution, marital agreements, child support and child custody.
"Williams Family Law is fortunate to have Adam Tanker join our team," said firm founder Jeffrey M. Williams, Esq. "His caliber of excellence will benefit our clients as we continue to grow the firm."
Before joining Williams Family Law, Mr. Tanker worked at a Montgomery County, Pa. law firm where he focused his practice on family law, criminal defense and commercial litigation. From 2008 to 2012, he served as a Deputy District Attorney for the Bucks County District Attorney's office where he was assigned to the gangs, guns and drug unit. Mr. Tanker also acted as the community liaison for gang violence and spent a significant amount of time speaking to high school students about the dangers of gang-related activity. He subsequently was promoted to the position of chief of the Bucks County District Attorney's asset forfeiture unit.
Mr. Tanker earned a Bachelor of Arts degree in Criminal Justice, with a minor in Psychology, from The George Washington University in 2004. During law school, he served as an intern with CNN. He also interned at Congressman Robert E. Andrews office (D. NJ). While serving as an intern with the U.S. Attorney's Office in 2003, Mr. Tanker assisted with the investigation and prosecution of the two "D.C. Snipers."
Upon graduation, he went on to earn a Juris Doctor from Widener University School of Law where he was a member of the Trial Advocacy Team. Mr. Tanker is a member of the Bucks County Bar Association, Montgomery County Bar Association, Philadelphia Bar Association, Pennsylvania Bar Association and the Doris Jonas Freed American Inn of Court.
Mr. Tanker serves as a child advocate/guardian for the Montgomery County Child Advocacy Project and in his spare time enjoys skiing, water sports, traveling and cooking.
Williams Family Law, P.C. – Williams Family Law, P.C., is a premier family law firm based in Bucks County, Pa. The firm provides individuals with matrimonial and family law legal counsel and representation in alimony, child support, child custody, divorce, domestic partnership and cohabitation, grandparents' custody rights, equitable distribution, marital settlement agreements, prenuptial and postnuptial agreements, separation agreements, spousal support, matrimonial taxation and related matters. The family law attorneys also provide guidance and representation in alternative dispute resolution forums, handling mediation, arbitration and custody dispute resolution. The practice at Williams Family Law centers on four core principles: experienced guidance, compassionate advice, powerful advocacy and knowledge of the local courts and counsel. The firm prides itself on leadership within the profession and a strong record of success. To learn more, visit http://www.bucksfamilylawyers.com or email questions(at)bucksfamilylawyers(dot)com.