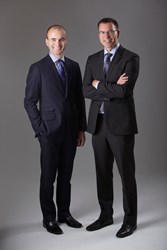 "We finally have our trial date and we intend to make the most of it"
Ontario, California (PRWEB) October 22, 2013
After a nearly two-year struggle, Richard Madigan (age 82) will finally have his day in Court against an alleged financial elder abuser now that the Court has set a trial date in the case of Madigan v. Rodriguez, filed under case number BC 491555 in the Los Angeles County Superior Court. In the lawsuit, Madigan alleges that the defendant purportedly took advantage of Madigan's now deceased brother, Robert, in the year leading up to Robert's death. The defendant faces possible damages in the approximate amount of $1.5 million, plus punitive damages and attorneys' fees.
Robert Madigan was a regarded architect during his lifetime, and was married to Carol who died before him on March 15, 2011. "When Carol died Robert was left depressed, distraught, and lonely," says Stewart Albertson of Albertson & Davidson, LLP, lead counsel for Madigan. According to Madigan's complaint, three weeks after Carol died, the defendant found an attorney for Robert and allegedly influenced him to create an estate plan that left the defendant Robert's house and twenty percent of significant cash assets.
According to court documents, the estate plan only tells half the story because the defendant is accused of siphoned off over $500,000 from Robert's bank accounts through beneficiary designations. The various accounts were allegedly transferred into the defendant's name a short eight months after the estate plan was signed. "Under the financial elder abuse case, we are seeking the return of these cash assets," says Albertson. A separate lawsuit is pending in Los Angeles Superior Court, case number YP011825, in which Madigan is seeking to overturn the Trust and Will signed by Robert shortly after Carol's death.
"Trial dates are nearly extinct in the current judicial crisis, so we are thankful to have a trial set in this case and look forward to representing Madigan in Court," says Keith A. Davidson, managing partner of Albertson & Davidson, LLP. The lawsuit was originally filed on September 4, 2012. "This case was originally set in Torrance, California, but when the Court consolidated all Trust and Probate matters to downtown Los Angeles, our trial date was taken off calendar and we have had to wait some time to get another trial date set," says Davidson.
While parties to a lawsuit over age 65 are usually entitled to priority in setting trial dates, the Court backup has made trial setting difficult, even where a priority applies. "We finally have our trial date and we intend to make the most of it," says Albertson. "It is our client's chance to tell his story and hopefully obtain a just result," says Albertson.
Albertson & Davidson, LLP is the fastest growing Trust and Will litigation boutique firm in the Inland Empire region of Southern California. Albertson & Davidson represents clients in San Bernardino, Riverside, Los Angeles, San Diego and Orange counties. In 2013, the attorneys at Albertson & Davidson, LLP have obtained verdicts and settlements in excess of $14 million for their clients.