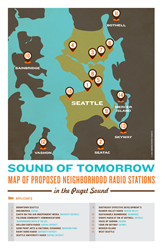 "Our company's social mission is building healthy communities, and we believe that neighborhood radio is a powerful tool in achieving that goal."
Seattle, WA (PRWEB) October 15, 2013
The government shutdown is causing an unexpected delay in the Oct. 15 opening of a two-week window for nonprofits to submit applications for thousands of low-power FM (LPFM) radio frequencies now available as a result of the Local Community Radio Act. Many nonprofits are standing at the ready to apply, and at least one may actually benefit from the extra time created by the government closure. Seattle's Pike Place Market will be the site of an Oct.15 public forum with 15 Puget Sound nonprofits and universities announcing their vision for creating neighborhood low-power radio with the help of Brown Paper Tickets. Pike Place Market is considering application, but is not yet ready to commit to it, and may actually benefit from the extra time created by the government closure.
"At the urging of some of our community members we are considering applying for a low-power FM serving Pike Place Market and parts of downtown Seattle," said Ben Franz-Knight, executive director of the Pike Place Market Preservation and Development Authority. "Pike Place Market has many diverse stakeholders, and this is an exciting opportunity to explore with them."
Brown Paper Tickets is offering assistance, should Pike Place Market decide to submit an application. "I will continue to assist low-power radio applicants in the Puget Sound to make certain that all who have decided to apply are ready whenever the government gets back to business," said Sabrina Roach, a professional "Doer" specializing in public media for Brown Paper Tickets. The world's only Not-Just-For-Profit ticketing and event registration company invested in filling every available frequency in Seattle with a qualified applicant, brought awareness to nonprofits about the opportunity to own a radio station, and provided free guidance and resources to applicants across the nation through its National Make Radio Challenge. "Our company's social mission is building healthy communities, and we believe that neighborhood radio is a powerful tool in achieving that goal."
This will be the first, and likely the last time that LPFM licenses will be awarded in large urban markets, making this an important opportunity for nonprofit community groups to reach much larger audiences. It is also the first opportunity in 8 years for nonprofits to apply for LPFM anywhere in the United States.
The Puget Sound radio applicants have a wide variety of new programming planned, from hyper-local news to immigrant rights advocacy and recording and collecting oral histories. Engineers who have worked with the FCC predict that between 5 and 8 frequencies could be licensed to Seattle; dozens of the nation's largest cities have an opening for one or more new radio stations, and there have been thousands of frequencies opened up by the Local Community Radio Act, including rural areas.
"Radio can be the glue that sticks neighbors in the same room to talk and amplify that dialogue in the community," said Roach. "These stations can become the foundation for neighborhood communication hubs with low barriers to training, equipment and Internet access, while distributing content across platforms." Roach worked 11 years in public media, including Seattle's KUOW and KBCS, before taking on her position with the Brown Paper Tickets Doer Program, a group of professional advocates for creating positive change in communities. She created and directed the National Make Radio Challenge, and identified millions in public funding in more than one city that can be applied to LPFM.
"We found $9 million in public funding available for LPFM applicants to compete for in Seattle, and have created an online guide for applicants in other cities to identify similar funding," Roach said. "LPFM applicants can qualify for this start-up funding, and have a great chance at it being granted."
The public meeting and unveiling of a Sound of Tomorrow Map, identifying neighborhoods that would be served by the proposed LPFM stations, will be at the Pike Place Market, Elliott Bay Room, on the top floor of the Economy Market Oct. 15 at noon. The public is welcome, and asked to register for free at: http://www.brownpapertickets.com/event/485691. For more information, go to http://community.brownpapertickets.com/Doers/radio.html
---
About Brown Paper Tickets: Brown Paper Tickets (http://www.BrownPaperTickets.com), the Not-Just-For-Profit event company, demonstrates the highest commitment to social responsibility in the ticketing industry. The company donates 5 percent of profits to nonprofits in the category of each ticket-buyers choice, pays employees a week's salary each year to work for the cause of their choice, and employs a team of "Doers" -- professional advocates for creating positive change in communities. Brown Paper Tickets builds communities through events, donations, setting a higher bar for good corporate citizenship, and a business model that builds a better world.
Editor's Note: If you'd like to get quotes from one of the applicants or from Sabrina Roach about the National Make Radio Challenge, or a copy of the map of the Sound of Tomorrow give us a call or an email and we will assist you with information, interviews and contacts to build your story.