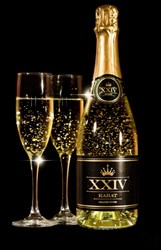 Scottsdale, AZ (PRWEB) October 16, 2013
XXIV Karat Wines brings new meaning to the term "sparkling wine" with its inaugural varietal, a Grande Cuvée infused with elegant, edible 24-karat gold leaf. From the moment the cork pops, gold flakes dance and swirl with the rising bubbles. XXIV Karat Grand Cuvée offers indulgent experience that enhances any occasion.
This bubbly is more than flair. XXIV Karat Grand Cuvée has a distinguished taste profile that's garnered attention and awards. It has nuances of pear and pineapple that mingle with lively green apple and toasty coconut. The producing vineyards current industry accolades include:

Silver – 2012 US National Wine Competition
Best of Class – 2012 Consumer Wine Awards at Lodi
Gold – 2012 Consumer Wine Awards at Lodi
XXIV Karat Grand Cuvée is worth its weight in gold. An exceptional sparkling wine that stands up to the most celebrated champagnes while offering something truly unique. From its dancing gold leaf to its award winning profile, XXIV Karat Grand Cuvée makes any moment memorable. Enjoy the XXIV Karat experience relaxing poolside in a cabana, toasting a wedding or special occasion, or with bottle service at the hottest night club. XXIV Karat Grand Cuvée is a golden opportunity for fun.
About XXIV Karat Wines
XXIV Karat Wines, headquartered in Scottsdale, Arizona, offers gold infused sparkling wine for on-premise consumption and off-site retail. Targeting the social 21 to 35-year-old, XXIV Karat Wines inspires everyone to "Live Life All In". For more information about XXIV Karat Wines, call 480.244.7132 or visit http://www.XXIVKarat.com.