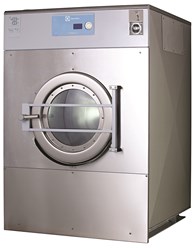 Inwood, NY (PRWEB) October 15, 2013
Electrolux Professional's new 135 lb. capacity washer is making quite a splash in the coin laundry industry. Global leader Electrolux showcased this new model along with the entire Professional Line 5000 at major industry event, Clean 2013.
Electrolux's 135 lb. capacity machine is built tough to withstand the abuse of a coin laundry. At 220 G-force extraction more water is removed resulting in faster drying, saving time and energy. It's perfect for large family loads, camping gear, rugs, comforters, sports uniforms, and more.
"It's a great addition to my laundry," shares Barry Carter, Oakley Coin Laundry. "There are many large families who use it regularly for their everyday laundry. As seasons change, a whole house of bedding can be washed. I remember one customer who washed 12 comforters in one load. Another washed 17 sleeping bags after a youth retreat. It's also great for sofa cushions and dog beds. On occasion, we even have some hotels using it when their own machines are down." As a distributor and coin laundry owner, Mr. Carter knows the industry and laundry equipment inside and out. It's a great testament to the product that he installed the Electrolux 135 lb. model in his own store and is extremely satisfied with its performance.
Electrolux introduced a number of intelligent features and unique innovations to the new Line 5000 products. The 135 lb. capacity washer (W5600X) is equipped with Compass Pro, the new microprocessor with up to 55 programs, 15 custom programs, 20+ languages, USB in coin box for easy accessibility, detailed user statistics, and real time clock for time of day pricing, happy hour pricing, and promotions. There is a Sanitizing Rinse feature that customers appreciate – owners can even generate additional income by charging for it. Options include Voice Guidance and Text Messaging systems.
Interested in learning more about the coin laundry business and the new lineup of equipment? Visit Laundrylux.com to learn more. Ask about special 15-year financing available to qualified buyers for a limited time only. Other terms and conditions apply. Call (800)645-2205 for details.