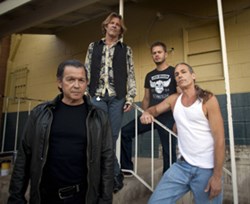 "The crowd is still talking about his (Tommy Castro's) electrifying performance ... Tommy and his band are nothing short of great." -- Niecy Durley, Associate Director, Monterey Bay Blues Festival
San Rafael, CA (PRWEB) October 16, 2013
Tommy Castro and the Painkillers and Danny Click and the Hell Yeah's are coming together for the first time at the Kanbar Center for the Arts in San Rafael. Produced by Murphy Productions and Famous4, this premier collaboration brings together two of the hottest groups on Marin's music scene. Special guest guitar maestro, Mark Karan will be joining the bands. This Day of the Dead will be a day of exceptional Blues, Americana and blistering guitar playing. Bring your dance shoes and get ready to party.
Local Bluesman Tommy Castro's music has taken him from local stages to national and international touring. His popularity was marked by his winning the 2008 Blues Music Awards for Entertainer Of The Year and in 2010 won Band of the Year, BB King Entertainer of the Year, Contemporary Blues Male Artist of the Year and Blues Album of the Year! According to The Chicago Sun-Times, Castro plays "Memphis soul-drenched R&B…top-of-the-line blues…Castro has a soulful voice, searing guitar and is an excellent songwriter and vocalist. If you close your eyes you will be convinced that you are listening to Otis Redding singing in 1967…tremendous."
The Pacific Sun voted Danny Click one of their "Marin 10" for 2013; their annual looks at the most fascinating people to keep an eye on. Music writer Greg Cahill wrote, "Click, a formidable axe-slinger known for his steely, Southern-rock-inflected powerhouse blues has become something of a sensation since becoming a fixture on the local music scene in 2011… With his easygoing personality, considerable chops, stage presence that makes every show a rock 'n' roll revival meeting and nearly single-minded focus on his music, Click, 52, seems to have been born to be a performing guitarist."
Joining both Danny and Tommy is Mark Karan. Mark Karan is best known for performing with the extended Grateful Dead family. For the last twelve years, he has anchored the lead guitar slot in Bob Weir & RatDog, playing hundreds of shows to thousands of fans year-round. Before crossing over into the land of the Dead, Mark worked his guitar and vocal voodoo for the likes of Dave Mason, Delaney Bramlett, the Rembrandts, Paul Carrack, Huey Lewis, Jesse Colin Young and Sophie B. Hawkins.
Experience all three guitar maestros with both Click and Castro's full bands at the Marin Osher JCC November 2nd. Produced by Murphy Productions and Famous4 in collaboration with the Kanbar Center of the Performing arts.
WHAT: Castro & Click: Tommy Castro and the Painkillers and Danny Click and the Hell Yeahs! With special guest Mark Karan día de los guitarristas
WHEN: November 2 doors 7PM /show 8PM
WHERE: Kanbar Center for the Performing Arts at the Osher Marin JCC 200 N. San Pedro Rd. San Rafael, CA
INFO/TICKETS $30 GA $40 reserved