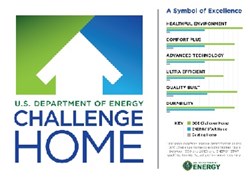 The whole point of the (DOE's Builders Challenge) program is to identify ways to bring high performance homes to the market in a more cost effective manner.
Chicago, IL (PRWEB) October 15, 2013
Priority Energy was honored last week for their energy efficiency contributions to the winning U.S. Department of Energy's (DOE) Builders Challenge Award home. The Builders Challenge Award is designed to recognize builders for their use of innovative energy efficiency measures in their new construction. Priority Energy worked closely with the Illinois builder to design and implement their high performance, cost effective products that contributed to the house's winning results.
Priority Energy, the long time energy efficiency partner of StreetScape Development in Libertyville, IL, helped the builder create this outstanding home that uses 37% less energy and emits 33% less off-gasses than a home built according to IECC 2012 code specifications alone. In economic terms, this means the home's annual utility costs will be nearly $1000 less than a comparable new home. In addition to all this, the durability, indoor air quality and overall comfort of the home will be greatly enhanced.
"We are big believers in the DOE's Challenge Home concept," said Robert Schildgen, owner and CEO of Chicago-based Priority Energy. "The whole point of the program is to identify ways to bring high performance homes to the market in a more cost effective manner. StreetScape Development has been building Energy Star-rated homes for the past few years; the Builders Challenge home was a natural next-step for them and we were thrilled to help."
Priority Energy provided the initial mechanical sizing, (Manual J, D, and S), and Energy Modeling for the design of the Challenge Home. During and after construction they conducted performance tests for IECC code compliance, Energy Star 3.0 and a HERS rating. In addition, the following Priority Energy products were utilized to attain the award-winning, high performance results:
Enviro-Dri® Exterior Moisture and Air Barrier Sealant
The polymer-asphalt coating is 97% more effective at blocking air and moisture infiltration then traditional housewrap products. EnviroDri's seamless barrier sealant is more durable than wraps, less expensive and quicker to install.
Aeroseal® Duct Sealing
Winning a DOE award for one of the "Top 100 Inventions" of the past 23 years, Aeroseal duct sealing will improve the comfort, health and efficiency of HVAC systems in new and older homes and buildings.
Heat Recovery Ventilation System (HRV)
The Lifebreath ventilation system removes indoor dust, allergens, chemical contaminants, odors and humidity from a home while it brings in fresh air from the outdoors. State-of- the-art technology increases HVAC efficiency by transferring the temperature of the indoor air to the incoming outdoor air.
Intellihot Tankless Water Heater
These ultra high efficiency water heaters learn and adapt to homeowners' life styles and supply never- ending hot water on demand. The Intellihot units are tankless which means there is no standing water to heat and less space constraints.
EWC Zoning Controls
An Ultra-Zone control system is probably the most cost effective improvement a homeowner can make. The one of a kind UT-3000 Zone Control System provides intelligent control of a communicating HVAC system at a maximum of three zones using motorized dampers and any off-the-shelf 24volt thermostat.
About Priority Energy, LLC
Priority Energy is dedicated to improving our well being by maximizing the performance of the structures we live and work in. They will accomplish this through the education of their customers (contractors, builders, code officials, architects, and home owners), by training BPI and RESNET certified professionals to further building science knowledge and the identification, introduction and installation (where necessary) of the highest quality products and services available in the marketplace.
Visit Priority Energy's showroom and training center at 538 Busse Parkway, Park Ridge, IL 60068.