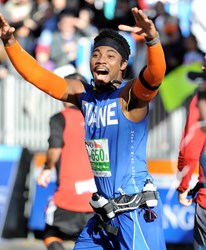 I'm running for those who can't. Health and wellness are so important, especially for our youth. Many children worldwide suffer from obesity or malnutrition.
New York, NY (PRWEB) October 15, 2013
Illustrious Entertainment Pub. (IEP) recently caught up with celebrity Duane McLaughlin and was captivated by his positive energy and his high adrenalin-pumping spirit. He is best known for originating the role of Detective Dallas Griffin in one of the longest running TV soap operas As The World Turns. The 27-year-old actor, also an Illustrious Entertainment recording artist, recently launched his inspirational album "Ready to Live". He is now preparing to join 48,000 runners on November 3rd in The ING New York City Marathon. Duane will participate in the 26.2 miles marathon under the umbrella of the charity, Team for Kids, an organization of committed runners who raises funds to support health and fitness programs for children.
The funds, raised by Team for Kids, will help to service over 130,000 children throughout 600 youth and community programs across the United States and around the world. Duane previously completed the marathon in 2011 when he ran to raise funds for the Make a Wish Foundation of Southern Florida. As a philanthropist, he has dedicated his time and his music to several humanitarian causes close to his heart including the NY Police and Fire Widows and Children's Benefit Fund. This charity provides financial assistance to grieving families immediately after they lose their loved ones. It was founded by former major league baseball player Daniel J "Rusty" Staub, whose humanitarian works has touched countless lives.
This year, Duane's ING NYC Marathon running partner will be Cole Cook. Cole, a runway model and the youngest brother to multiplatinum Grammy award winning recording artist and philanthropist Alicia Keys, is participating for the first time. IEP enquired from Duane the purpose behind his dedication to charity, and why he runs: "I am from humble beginnings and God has graced me with many blessings, I'm running for those who can't. Health and wellness are so important, especially for our youth. Many children worldwide suffer from obesity or malnutrition. If by running I can make a difference in just one child's life, I'm grateful."
Duane, who recently married his long-time girlfriend Amber Ridinger, is the proud father of two and a half month old Ayden. Together, Duane and Amber are the founding parents of DNA Miracles, one of the finest and fastest selling children vitamins, baby products and expectant mothers' products available through http://dnamiracles.com and http://www.shop.com. The couple will donate fifty cents from the profits of every DNA Miracles product purchased between now and November 3rd 2013, to Team for Kids. Sponsors can also support Duane and Cole at http://www.readytorunnyc.org.
While speaking with Duane's personal trainer Garson Grant who has trained several celebrities, we asked Garson how he felt about the marathon. "There is no doubt in my mind that Duane will finish the marathon in good time. His previous finishing time in 2011 was 4.9 hours, which was excellent for someone running a marathon of this magnitude for the first time. As it stands, his focus may not only be on timing but also on supporting his running partner to the finish line. He is dedicated to the mission. He has the mobility, flexibility, energy, the mental capacity, and is also in great shape."
While the rest of the World will be watching the great marathon runners from the USA, Kenya, Europe and other parts of the globe, here at IEP, we will be throwing all support behind our runner with the golden heart Duane McLaughlin, his running partner Cole Cook, and the Team for Kids. For more information on Duane McLaughlin, visit http://duanemclaughlin.com. For more information on Team For Kids, visit http://www.nyrr.org/causes-and-community/team-for-kids.