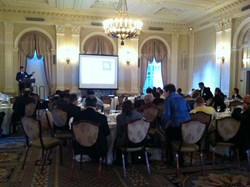 New York, New York (PRWEB) October 17, 2013
Seminar Overview: Hot Tech Trends: Cloud… Cybersecurity… Big Data… Mobility
Product innovations from vendors of new technologies and business software reflect the emerging needs of the industry. The business and technology leaders of financial service firms try to make use of what's new and hot, as this gives them the edge and makes it difficult for their competitors to keep up. Their service innovations make full use of the product innovations fueled by vendors. What's new in 2013? Are all new technologies leveraging what's already hot, like Cloud, Big Data, Social Business and Mobility, for which we need to tune our enabling portfolios? Or are they making us look at something new and bleeding edge? This seminar provides a forum for information exchange between the industry leaders, research analysts and vendors who take advantage of emerging enablers.
Profile
For over 45 years, the Wall Street Technology Association (http://www.wsta.org) has provided financial industry technology professionals, vendors, service providers, and consultants forums to learn from and connect with each other. The WSTA facilitates educational seminars and networking events where members meet and exchange ideas and best practices that assist them in effectively capitalizing on technology advances and dealing with financial industry business challenges. Founded in 1967, the WSTA is a not-for-profit association with a long history of evolving to meet the needs of its members.
The WSTA hosts seminars, roundtables, panel discussions, social events, and meetups. These events offer many opportunities to stay on top of leading technologies, as well as network and share information with industry colleagues. The WSTA's quarterly educational Ticker Magazine and LimeLight e-newsletter provide additional content and information about the WSTA and industry-related activities. The newly launched website is a dynamic resource for keeping on top of the latest information and offers access to additional resources including a career center, white papers, blogs, and information about other industry events.