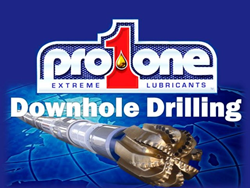 ... ProOne DHDF Additive has proven to be unsurpassed in performance...
Billings, Montana (PRWEB) October 15, 2013
Downhole, horizontal drilling is one of the harshest, most challenging environments in the oil and gas industry - extreme heat, pressure and friction. ProOne has responded to the challenge of the downhole, horizontal drilling environment that dominates the Bakken Oil Play by creating a new generation of lubrication technology 50 times the film strength of conventional lubricants!
Since 2010, drilling companies in the Bakken have used the ProOne Downhole Drilling Fluid (DHDF) Additive to lubricate, save time, save drill strings, and sometimes save the well. Ultimately saving money!
Just one of the many reasons, ProEarth Products and ProOne has been selected to deliver a technical presentation at TRAC Energy Expo - 2013 in Billings, Montana from November 5th through the 7th. David Whitworth, the President of ProEarth Products and a representative from ProOne will be on hand at TRAC 2013 for the Cross-Axis Friction Machine demonstration and to to answer questions regarding ProOne's innovative line of downhole drilling products. This hands on technical breakout will demonstrate on how oil and gas companies operating in the Bakken can save time, money and equipment!
For example, the ProOne DHDF Additive enhances ROP, and completely emulsifies with water, brine, OBM and assists in the binding up of free water in OBM. The additive is a second-to-none corrosion inhibitor that drastically helps to eliminate electrolysis on the drill string while protecting the rubber in your pumps and motors! Additionally, its biodegradable and non-toxic formula with a high flash point exceeding 375 degrees Fahrenheit makes it a very safe product to handle and store.
Born out of the demanding and high-paced environment of the racing industry and then proven hundreds of times over in the oil industry, ProOne DHDF Additive has proven to be unsurpassed in performance, especially in extended lateral bores. Thanks to the superior molecular technology and ionic charge engineered into these fluids, ProOne lubricants are attracted to sources of friction and heat- that means it is applied where it is needed most, whether it be the bit, drill string, casing, or bore.
Save equipment, save time, and save money with ProOne lubricants!