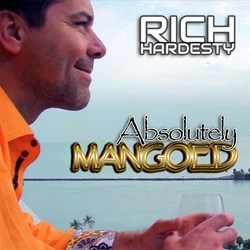 "Absolutely Mangoed" highlights the fun-loving, easy-going lifestyle of Hardesty and his fans, much like his other fan favorites "Culturally Insane" and "Back to Jamaica."
Indianapolis, Indiana (PRWEB) October 22, 2013
Working independently, as always, without the support of a major record label, Rich Hardesty once again brings his laid-back, feel-good music directly to his fans across the globe. His new ode to relaxation, weekend fun and the enjoyment of adult beverages, "Absolutely Mangoed" is sure to please both current and future fans alike.
"Kick back, here comes the weekend, ain't nobody gotta feel no pain tonight. Outside on the patio, the newsman said there ain't no rain in sight."
The tune highlights the fun-loving, easy-going lifestyle of this artist and his fans, much like other Hardesty fan favorites "Culturally Insane" and "Back to Jamaica." Over the last decade and a half, Hardesty and his unique tunes have amassed an international fan base thanks to his hard-working grassroots tours and online community building. Rich's music emphasizes a sun, sand and surf mentality, despite his upbringing in the midwest, and it brings that vibe to listeners around the world, from Vladivostok to the Virgin Islands.
"Got a smile on my face, drinks to the sky. It's a win-win situation. Everybody's fine."
When asked about his inspiration for "Absolutely Mangoed," Rich says it's all about making people forget their troubles. "I just want to entertain people. If they hear this song on the radio, online or in person and it inspires them to sing or dance, I've done my job."
"We can forget 'cause we ain't got no problems. We're feelin' all right. Feelin' all right."
After performing thousands of concerts around the world, Rich still gets a charge from the audience. "I live to entertain. I'm relentless. I won't stop until everyone who attends becomes a fan. My secret is giving the crowd something they don't expect." Rich counts gigs in Australia, Jamaica, Miami and his hometown of Indianapolis among some of his favorites.
"The weekend's almost over, and I ain't gonna put up a fight. I'm gonna get absolutely mangoed tonight."
Although Rich's music has been compared to artists such as Jack Johnson, Jason Mraz, and Jimmy Buffet, he feels his style is a bit more eclectic. "It's such an honor to be mentioned in the same sentence as those guys, but I do my own thing. Naturally, we all make music that is considered 'feel-good,' but my music is a fusion of rock, pop, and folk that's unique, in my humble opinion."
"The weekend's almost over – or has it just begun? Absolutely mangoed, watching the setting sun."
For more information about Rich Hardesty and to experience "Absolutely Mangoed," pour yourself a margarita or mojito and head to http://www.richhardesty.com, or join in on his celebration of sun, surf and sand on Facebook at https://www.facebook.com/richhardestyfanpage, Twitter at https://twitter.com/richhardesty, or YouTube at http://www.youtube.com/user/richfeelgood.
After being involved in music nearly his entire life, international recording artist Rich Hardesty began his professional career in 1992 by fusing his passion for rock, pop, and folk to create a unique trademark sound all of his own which he quickly found to be widely well-received.
Soon after starting out on his professional journey, Rich found himself courted for the "Jagermeister Tour." He was voted the #1 artist on the tour for 10 years running and played sold-out shows at such famous clubs as House of Blues in Las Vegas and 4th and B in San Diego.
Writing jingles for Jagermeister, Rich discovered a knack for combining brand marketing and entertainment. Of his many accomplishments, he is proud to have toured with Pepper and Slightly Stoopid, being asked to headline for John Mellencamp's 50th birthday party, and to have a long-standing endorsements with Ovation guitars, Jagermeister, and others.
During his 18-year career Rich has performed in more than 2,000 live shows, recorded 11 indie records, and has had his songs featured in such films as Totally Baked and 69 the Highway.
Rich's sound has been described as a combination of Jack Johnson, Sublime, and Dave Matthews Band-meets-John Mayer with a reggae-rasta touch.
Rich notes that he has been influenced most by Bob Marley, Jim Croce, James Taylor, The Grateful Dead, Jack Johnson, and Sublime. Rich is proud to note that he is a member of the "The Parrot Head Webring" and molds his music around the same laid-back, feel-good vibe of the legendary Jimmy Buffet.