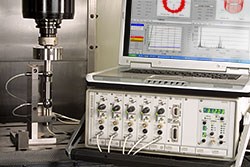 St. Paul, Minn. (PRWEB) October 15, 2013
Micro displacement measurement of spindles and their error motions is critical to manufacturing at the micro and nano levels. Lion Precision will be demonstrating the world's leading spindle measurement tool at the ASPE Annual Meeting in St. Paul October 20-25. Lion Precision's Spindle Error Analyzer (SEA) is used throughout the world for testing and qualifying machine tool spindle performance. Spindle builders and rebuilders also use the system to qualify spindles after rebuild and before shipment.
The Spindle Error Analyzer uses Lion Precision Elite Series capacitive noncontact displacement sensors which have subnanometer resolutions. The sensors are positioned on a machine table to sense a master ball target (roundness error < 50 nm) placed in the tool holder (or lathe chuck). The spindle is rotated at operating speeds and the motions of the master ball surface are recorded and analyzed. The measurement results are reported as calculated measurements as well as polar plots and linear charts.
Thermal effects are also measured by the system. Temperature sensors are placed on various points of the machine (spindle, frame, table etc.) and the masterball position monitored as the temperature changes. Thermal effects are the largest source of tool position errors on any machine tool.
The Spindle Error Analyzer performs tests according to the following standards: ISO230-3, 230-7; ANSI B5.54, B5.57, B89.3.4.
The American Society for Precision Engineering (ASPE) aids the advancement of precision engineering to promote the future of manufacturing in America by supporting education and encouraging the development and application of precision principles. The ASPE web site with information about the annual meeting can be found at http://www.aspe.net.
In 1958, Lion Precision was the first company to provide capacitive displacement sensors to industry. The company has expanded its product offering to include eddy-current displacement sensors and some application specific sensors for the machine tool, packaging and PCB industries. The company is focused on assisting users in sensor implementation by providing technical knowledge resources, expert guidance and optimized systems including custom designs.