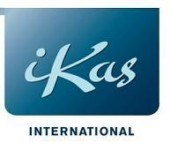 Diversification across industry segments and geography, driven by operational excellence, is a cornerstone of our growth plan
London (PRWEB UK) 15 October 2013
Global recruitment consultancy iKas Group, who provide solutions into leading financial and commercial clients, announced a management restructure to drive the next phase of their global growth. The Board appointed Oliver Coughlan as Group Managing Director, Ray Testa as Non-Executive Director, Simon Michaels as Global Finance Advisor and Alan Stewart as Group Business Director.
Mr. Coughlan, who is promoted from Regional Director of UK and Europe, will report to the Board of Directors in his new role as Managing Director of the iKas Group. "I will be immediately forming and leading a Global Operating Committee to govern the day to day management of the firm and to achieve the Board's three-year strategic growth objective," said Mr. Coughlan.
In his role as Non-Executive Director, Mr. Testa will chair the Group Board and brings extensive management experience in financial services and consulting. Mr. Michaels, Global Finance Advisor will report to Mr. Coughlan as well as to the Board. Mr. Michaels has extensive industry experience and will play a key role in the firm's expansion. Mr. Stewart will report directly to Mr. Coughlan as Group Business Director supporting him globally.
Founding Board members Ian Southern, Karen Higgins and Sarah Curtis with continue their Board responsibilities and will focus primarily on business development and account management to drive sales and customer service excellence. "As we look forward to the next phase of our development, we recognise the need to restructure our governance model and rebalance our management team for optimum effectiveness and scalability," said Ms. Higgins.
iKas opened its doors in 2004 and has experienced rapid growth. It now operates across global locations including London, Hong Kong, Singapore, Sydney and New York and has a turnover in excess of £30 million. "Our diversification model has seen the company grow its brand strategy with the opening of iKonnect Global Solutions and we have many more exciting initiatives ahead", said Mr. Southern. "Diversification across industry segments and geography, driven by operational excellence, is a cornerstone of our growth plan," added Ms. Curtis.
For more information about iKas International and its services, visit http://www.ikasinternational.com