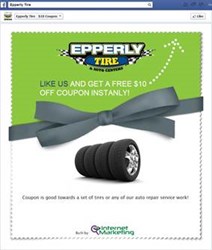 By asking website tire shoppers to like us on Facebook to receive additional savings on tires, we not only grew our fan base but increased sales as well.
Cookeville, TN (PRWEB) October 15, 2013
TCS, a software and internet marketing provider in the tire and auto service industry, is helping its customers define their online goals to include all aspects of internet marketing. Dealers, who embrace social media along with their website, see positive results from long-term social strategies, according to data compiled by TCS. Tire dealers are using the new TCS "Like Us and Save" app to connect their website to their social experience in more ways than one. The app asks the user to 'like' the page and in return the new fan is presented a fan exclusive offer. TCS works with its dealers to change the offer monthly or quarterly and track the in-store conversions compared to the amount of new fans derived from the app.
"A lot of tire dealers view their social goals and website goals in silos, oftentimes managed by two different companies, which results in a disjointed experience for the online visitor. At TCS we see both websites and social media as two key components in the all-encompassing internet marketing experience. Both websites and social media have the same goal: to generate a growing number of loyal customers. Our growing number of Facebook Apps, which are directly tied to our dealers' websites, are another example of how we aim to partner with dealers to grow their customer base," stated Marek Cerny, TCS Director of Web Development.
TCS customers, such as Tire Pros of Frederick and Epperly Tire and Auto Centers, are examples of tire dealers having success from using the app to tie the website and social strategies together. Tire Pros of Frederick of Frederick, MD, highlights a "$10 Oil Change" on their website's homepage and throughout the site. This offer links to the Facebook App built by TCS, which requires the visitor to 'like' the dealer's Facebook page to trigger the "$10 Oil Change" coupon to be revealed. "I have found strong oil change offers are an effective way to increase foot traffic and hook a customer into visiting your shop every three to six months. At the same time, I am a new tire dealer and quickly learning the importance of 'being social' on the internet. It is a cost effective way to educate my community about my shop and constantly stay in front of customers to promote my products and services. By pointing my website visitors to my Facebook page and encouraging them to 'like' me to receive the oil change offer, it is the best of both worlds. I get what I want, a new Facebook fan and potentially a new customer, and the shopper gets a strong offer," stated Bo Cavell, Tire Pros of Frederick owner.
Epperly Tire & Auto Centers takes a different approach to tying the website to their Facebook page by literally converting tire shoppers into Facebook fans. TCS worked with David Epperly, Epperly Tire & Auto Centers owner, to come up with the double conversion. Website visitors who shop for tires on epperlytire.com are presented with an incentive based call to action next to each tire presented in the search results: "Get A Quote & $10 Off." When the visitor clicks this button, a quote form requires the user to submit their name, email and phone. Upon submission, the user lands on a confirmation page presenting the option to "Schedule Now for an Additional Savings!" or "Like Us on Facebook & Get Additional $10 off a set of Tires or Service Work." Additionally, an identical email is immediately sent to the user with these same offers and messaging. Epperly's Facebook page resulted in over 300 new fans over the last 90 day period. Mr. Epperly explained, "We are a very social tire dealer in our community, involved in many charity events and sponsorships. Facebook comes natural to us and has become a part of many aspects of my business. Customizing our website to include a Facebook only offer was an excellent move for us. By asking website tire shoppers to like us on Facebook to receive additional savings on tires, we not only grew our fan base but increased sales as well."
In addition to the Like Us and Save app, TCS has a Tire Finder app, which is an extension of the dealer's website, offering Facebook visitors the same tire shopping experience on Facebook as on their website. Dealers interested in the firm's Facebook Apps can contact TCS at 888-449-8473 or sales(at)tcstire(dot)com.
About TCS Technologies
TCS Technologies, a Microsoft Certified Partner, develops and markets both off-the-shelf and custom tire software solutions, web applications, ecommerce platforms, and support and consulting services to tire and automotive service companies across the US and Canada. As the industry's only full-service technology provider, TCS has built a product base, which continues to prove itself as a revenue increasing, business streamlining asset to any size tire or automotive service business. TCS has tools unmatched in the industry and customization within each of its products to cater to the way tire dealers and retreaders do business. TCS's home office is located outside Nashville, TN with a second location in Salt Lake City, UT.
About Epperly Tire & Auto Centers
Epperly Tire & Auto Centers, a Tire & Service Network Dealer, has three locations in Columbus, GA. Established in 1989, the business is family owned and operated with top of the line equipment and showrooms. All locations are AAA certified repair shops with ASE certified technicians.
About Tire Pros of Frederick
Tire Pros of Frederick is a subsidiary of Hi-Lo Auto Sales of Maryland Inc. founded in 2000. The business features ASE Certified Master technicians and a large selection of tire brands. Consumers can enjoy an internet cafe while they wait, a playroom for kids, and the best price in town on tires guaranteed or $100 cash for the customer.