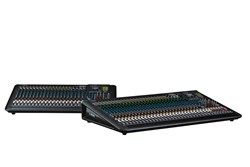 "We worked hard to design a mixing board that combines the best digital and analog features," said Nithin Cherian, Yamaha Corporation of America.
Buena Park, California (PRWEB) October 16, 2013
Yamaha's MGP32X mixing console won two New Product Technology Awards at the 2013 WFX Expo in Dallas, an annual event geared toward houses of worship. In addition to winning the award for Best Overall Audio Product, the mixer also won Best Other Audio Product.
"We worked hard to design a mixing board that combines the best digital and analog features," said Nithin Cherian, marketing manager, Live Sound. "It happens to excel in the house of worship setting and it is gratifying to know that this panel of experts appreciated the quality and care that went into creating this product."
Founded in 2006, WFX, short for Worship Facilities Conference and Expo, is the country's largest educational and training expo for churches. The gathering helps churches of all sizes navigate the rapidly changing technology landscape and introduces representatives of more than 1,000 houses of worship to ideas and innovations that help further their missions.
The MGP family of hybrid mixers consists of four models: MGP12X, MGP16X, MGP24X and MGP32X. This series provides the perfect balance of the analog sound people enjoy with the digital capabilities they need.
The analog portion provides the user with a color-coded intuitive workflow, which starts at the input with our studio quality D-Pre microphone preamps and flows through "vintage style" tone-shaping X-pressive channel strip EQs.
The digital heart of the board allows the user to shape and control the sound using well-regarded SPX and REV-X effects processors. In addition, the free MGP Editor iOS app makes the experience easier and more powerful to use.
Exclusive to the MGP32X and MGP24X, Yamaha added USB playback and record, two types of master EQ, two types of master compression, and the new Direct Play feature. The combination of these features creates an intuitive workflow that reduces the amount of time it takes new volunteers at worship facilities to learn how to mix and record a service without compromising audio quality.
For more information, write Yamaha Corporation of America, P.O. Box 6600, Buena Park, CA 90622; telephone (714) 522-9011; e-mail infostation(at)yamaha(dot)com; visit http://4wrd.it/livesound.