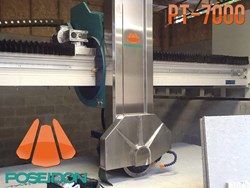 Punta Gorda, FL (PRWEB) October 18, 2013
Florida-based stone equipment co Poseidon is once again making headlines with the quality of its machinery, as it brings a new breed of stone machine to the market. The PT 7000 is a heavy duty bridge saw for granite and other types of stone, which was introduced to the stone equipment industry earlier this year. Able to mount blades up to 22" in diameter and with a 24 HP motor, it is one of the most impressive bridge saws currently available.
The PT 7000 includes a number of cutting edge design features. Its prismatic, cast iron guides are protected completely by covers that run on the machine's rails and gantry. This internalisation of the mechanical system significantly reduces wear and tear on the machine, reducing vibration and increasing the life of the mechanical system.
The gantry itself is also cast iron, in line with Poseidon's reputation for using the highest quality stone equipment parts in order to achieve the ultimate in precision cutting. As Director Joe Alva explains:
"The PT 7000 is one of most exciting bridge saws yet. The heavy duty structure has been combined with innovative design to ensure that this is one of the most dynamic and precise stone cutters on the market. The result is a machine that cuts through 3 cm material like butter."
The innovative design that Mr Alva mentions can be seen in features such as the PT 7000's fully automated, hydraulically controlled table. With its own controls and push button-powered hydraulic solenoid valves, the rotating table makes it easy for operators to reach their desired degree position, through the table's clockwise and counter-clockwise movement. Naturally, given Poseidon's reputation, safety features abound. The rotating table locks automatically via hydraulic vertical friction pistons as soon as the push button controls are released.
Of course, being a Poseidon machine, it is a given that the PT 7000 includes a precision bridge saw laser, plunge cutting capability and an auto-cuts program that executes a cut however many times it is asked to, in line the operator's specific measurements.
So confident is Poseidon in its newest bridge saw for sale, that the stone equipment co is offering a five year warranty on the mechanical X and Y, details of which the Poseidon team are happy to discuss with customers looking to purchase the PT 7000. It seems that the only thing to equal the PT 7000 in terms of quality is the excellent customer service from the Poseidon staff!
To find out more about Poseidon Industries, Inc. and their range of innovative products, call (877) 571-5599, email info(at)poseidonmachinery(dot)com, or visit http://poseidonmachinery.com/.
You can also follow Poseidon's latest developments at http://www.youtube.com/poseidonmachinery or by liking them on Facebook: http://www.facebook.com/poseidonmachines.