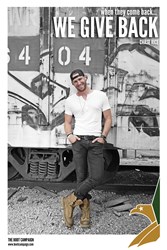 'I have unbelievable respect for any man or woman who's willing to lay down their life for our freedom and country,' said Rice. 'Personally, I'll do anything to help our military out in anyway I can.'
Nashville, Tenn. (PRWEB) October 15, 2013
In the midst of releasing his second independent EP Ready Set Roll, singer/ songwriter Chase Rice is taking a moment to encourage Americans to express gratitude for those who serve by lacing up combat boots with the Boot Campaign—a national nonprofit dedicated to cultivating awareness, promoting patriotism, and providing assistance to military personnel, past and present, and their families. You can view Rice's photos on http://BootCampaign and read his interview on http://IAmBootCampaign.com. Growing up with grandfathers who both proudly served, Rice is dedicated to supporting our Armed Forces.
"I have unbelievable respect for any man or woman who's willing to lay down their life for our freedom and country," said Rice. "Personally, I'll do anything to help our military out in anyway I can."
Rice has previously released two albums Country As Me and Dirt Road Communion. He's also the writer of the enormous smash single "Cruise" performed by Florida Georgia Line. Rice joins the ranks of musicians such a Dolly Parton, Eli Young Band, Jack Ingram, Florida Georgia Line, Six Market Blvd, Randy Houser, Joe Nichols, Stoney LaRue, Granger Smith, the Rankin Twins, in the Boot Campaign's robust celebrity boot photo awareness campaign.
Rice's new EP Ready Set Roll releases on Tuesday, October 15th. The Live Nation Ones To Watch - Ready Set Roll Tour is underway. See tour dates and buy tickets at http://ChaseRice.com.
About Boot Campaign
The Boot Campaign is a national 501c3 nonprofit that is dedicated to showing tangible appreciation of our active military, raising awareness of the challenges they face upon return and supporting their transition home. The Boot Campaign cultivates awareness, promotes patriotism, and provides assistance to military, past and present, and their families. Through the sale of its signature military combat boots, general public donations, and corporate sponsorship, the Boot Campaign operates five distinct initiatives -- Jobs, Housing, Wellness, Urgent Assistance and Family Support-- that are caring for military personnel, past and present, healing from a variety of physical and emotional combat wounds, embodying the campaign motto that, "When They Come Back, We Give Back". http://www.BootCampaign.com
About Chase Rice
Singer/songwriter Chase Rice moved to Nashville in 2010 and soon after recorded and released his first album, Dirt Road Communion, on his own Dack Janiel's label. The 15-track debut established Rice within the fabric of Music City as more than just a new face. A self-proclaimed road warrior notching 150+ dates a year, Rice supported the release with a sold out string of venues across the country without a record company, a manager or a song on the radio, and this was all before the success of his co-penned record-setting, many-times multi-platinum single, Florida Georgia Line's "Cruise." As a solo artist Rice cemented his first single, "How She Rolls," on the Billboard Country Album chart while writing, recording and touring steadily. His latest set of tracks, recorded with producer/engineer Scott Cooke (Jake Owen, Nickelback), Chris DeStefano, and Chad Carlson, are available for purchase now with that same "charming vocal style" [Roughstock] demonstrated on Communion. For more information on this "one to watch" [Country Music Is Love], please visit http://www.chaserice.com for follow Rice on Facebook and Twitter at @chasericemusic.
####
Boot Campaign Media Contact: Meghan McDermott Meghan(at)BootCampaign(dot)com
Chase Rice Media Contact: Ebie McFarland, Essential Broadcast Media ebie(at)ebmediapr(dot)com